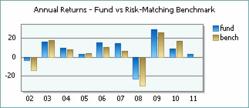 AlphaFunds is a potential game-changer in the mutual fund analysis arena because of its leverage of factor technology
Dallas, TX (PRWEB) February 01, 2012
AlphaFunds from EMA Softech is new, web-based mutual fund analysis software built on factor technology.
AlphaFunds is for advisors, pension fund consultants, money managers and banks.
AlphaFunds uses the factor methodology of Chicago Professor Fama and Dartmouth Professor French to compute the (1) risk-adjusted returns (alphas) and (2) factor exposures of mutual funds, user-built mutual fund portfolios and user-uploaded portfolio returns.
A fund's alphas are the difference in returns between the fund and an index with the same factor exposures as the fund. They directly indicate whether the fund is adding value and therefore provide valuable insights into the fund's performance.
A portfolio's factor exposures indicate the return behavior it can expect over the long term and are therefore important for controlling both the expected return and risk of portfolios.
AlphaFunds also introduces down-market beta, a proprietary, factor-based risk measure which reliably predicts a fund or portfolio's return behavior in future down markets.
"AlphaFunds is a potential game-changer in the mutual fund analysis arena because of its leverage of factor technology", says Dr. Andy Lawson, financial economist and EMA Softech's director of research.
EMA Softech is an investment software developer based in Dallas, Texas.
###