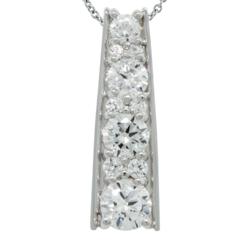 These prototype items are all priced under $100, which is a fantastic deal whether you are buying for yourself or for someone special, this Valentine's Day
(PRWEB) February 01, 2012
Diamond Nexus, the international lab-created jewelry company based in Wisconsin, announced a sale on prototype items beginning on Feb. 1st. These unique pieces were created as test designs Diamond Nexus used in consumer test panels and for marketing purposes. The affordable designs, set in sterling silver, are based on current trends in jewelry design for 2012.
Diamond Nexus produced the limited quantity items in sterling silver and released the collection to customers in order to get further input on the new concepts and designs. Overwhelming response to the product testing prompted the marketing team to open the items purchase.
"We had such amazing feedback from our customers during product testing of these items" Kyle Blades, Director of Marketing pointed out. "We determined to go forward and offer some new pieces on the website to reward our customers!"
Lab-created diamond stimulant jewelry is what Diamond Nexus is known for, world-wide. They began in 2004 and have succeeded in creating high-quality heirloom jewelry to last a lifetime. Since 2009, Diamond Nexus has also been the creators of the Miss USA, Miss Teen USA, and Miss Universe crowns. "With customers all over the world, Diamond Nexus has grown exponentially and staying abreast of the current trends is important to our business," said Blades.
"These prototype items are all priced under $100, which is a fantastic deal whether you are buying for yourself or for someone special, this Valentine's Day," said Jennifer London, Social Media Coordinator. "With less than two weeks left til the big day, this deal on our jewelry will definitely help a lot of women get much deserved and dazzling bling for Valentine's Day!"
Diamond Nexus was founded in 2004 with the purpose of bringing to the public the powerful benefits of the diamond simulant revolution. They have over 200,000 customers worldwide that have awarded them an "A" rating with the BBB, and are rated a top ten online jewelry store according to the IR500 list. For two years in a row brides from The Knot have selected them as their Best of Jeweler.Diamond Nexus currently has two retail locations: their flagship store at Woodfield Mall in suburban Chicago, Illinois, and a second store at Mayfair Mall in Milwaukee, Wisconsin. In 2009 the company was named the official jeweler and crown maker of the Miss Universe Organization as part of NBC/Universal's "Green is Universal" environmental initiative.
###