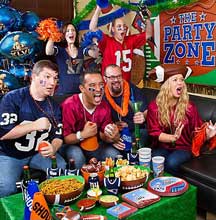 The Super Bowl is an exciting and fun event, however, people should maintain a level of situational awareness...
Neptune, NJ (PRWEB) February 01, 2012
Super Bowl 46, a rematch between the New York Giants and the New England Patriots is scheduled for February 5, 2012. The Super Bowl is among the most watched television events worldwide. Family and friends gather in what could arguable be described as a hybrid holiday-like / party-like atmosphere.
During national-events that create an impact the magnitude of the Super Bowl, it is more important than ever to be "safety conscious".
"The Super Bowl is an exciting and fun event, however, people should maintain a level of situational awareness, especially when out among large crowds or when cooking and frying up hors d'oeuvres", said Donald Colarusso, President of All Hands Fire Equipment, supplier of firefighter boots and a veteran firefighter of 24 years.
To experience a fun and safe Super Bowl experience there are a few key safety tips that should be observed and followed:
When attending parties, in homes, sports bars or other locations including the actual venue it is always advisable to have a designated driver or plan on taking a taxi home.
At large gatherings, awareness of exits and egress can save lives. There are hidden dangers at parties and large events during Super Bowl weekend. these dangers include carelessness with cigarettes, under attended barbeques and even fireworks.
When cooking, frying or barbequing, care should be taken around open flame and when using grease, oil and related cooking products. Wearing an apron or tucking in that NFL jersey is suggested. Fire Extinguishers should definitely be on hand.
Smoke detectors in homes should always be in working order. If chicken wings or hotdogs are burning and smoke detectors sound, batteries should not be removed. The correct procedure is to clear the smoke and get that smoke detector back in service immediately.
Super Bowl 46 should be a spectacular event. Two rival teams with a memorable journey meeting in an epic game – it is likely to be the most watch sports game in years. "Be sure to not only have fun but stay aware and be safe this weekend", suggests Colarusso, expert supplier of firefighter gear, ESS goggles, and public safety equipment throughout North America and abroad.
###