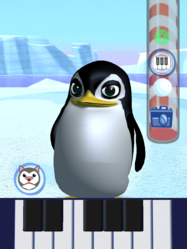 Peepo joins a cast of fun friends including Stan Skoonie our Talking Skeleton, and Maxwell from Talking Babies Everywhere
Novato, CA (PRWEB) February 03, 2012
iOS users looking to have some fun with an interactive penguin of their own can find all they desire with SiXiTS Happy Talking Penguin, the charming, animated and interactive new 3D virtual character app, featuring Peepo the Penguin for iPhone, iPad and iPod touch.
Designed by an all-star team of seasoned game, software, and media professionals who have held key positions at Disney's ImageMovers Digital, Lucasfilm Animation, Industrial Light and Magic and Electronic Arts, Happy Talking Penguin lets iOS users of all ages meet Peepo and:

Speak to him, and listen as he repeats what he hears
Tickle and watch to him giggle
Use various action buttons to make him dance and burp
Throw snowballs at him with two modes
Gently nudge him awake when he falls asleep
Play tunes on his keyboard with various sound samples, with add on packs of sounds to purchase though in-app purchasing
Make it snow by shaking the device
And much more updates on a regular basis
The app also features a photo booth mode where users can also take a photo with Peepo, have him change his pose with the tap of a finger, and email the photo to a friend with their choice of framing and greeting.
"Happy Talking Penguin is the latest in our fun and highly interactive Happy Talking virtual 3D Character series," commented Euan Macdonald CEO of SiXiTS, the app's creator. "Peepo joins a cast of fun friends including Stan Skoonie our Talking Skeleton and Maxwell from Talking Babies Everywhere. These characters and apps reflect our growing range and their capabilities, and demonstrate our blend of talent, creativity, and elegance in design, and help us share fun and joy with the iOS community!"
Happy Talking Penguin for iPhone, iPad and iPod touch is available now in the App Store.
For more information or media inquiries, contact Claudia Menjivar at SiXiTS at +1 415 524 4765 or press@sixits.com.
About SiXiTS
SiXiTS is a new-media production company and publisher of superior entertainment content for distribution through internet-enabled channels. The team is comprised of seasoned game, software, and media professionals who have held key positions at Disney's ImageMovers Digital, Lucasfilm Animation, Industrial Light and Magic and Electronic Arts, and who have contributed to numerous high-profile film productions including Disney's A Christmas Carol, the Star Wars prequels, and the Harry Potter and Jurassic Park series. Game titles include the xBox 360 launch FIFA-Road to the World Cup, SKATE, Sims 3 and Need for Speed. Learn more at http://www.sixits.com
###