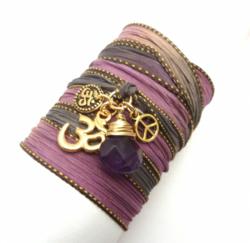 New Haven, CT (PRWEB) February 01, 2012
Charmed Design gifts 18th Annual Screen Actors Guild Awards nominees and presenters a silk ribbon wrap bracelet.
Charmed Design, founded by Connecticut resident Lori Cohn, gifted such celebrities as Drew Barrymore, Rachel McAdams, Glenn Close, and Jessica Lange, one of their handmade silk wrap bracelets at this year's Screen Actors Guild Awards. Charmed was chosen to be included in the gift bag given to the celebrities staying at the Four Seasons Hotel.
Lori Cohn, previously a lawyer, founded Charmed Design while recovering from a life threatening illness. While sick, she lost everything, including both her job and her home. She began designing jewelry as a way to stay positive and constructive. Discovering a passion for both design and entrepreneurship, she has grown Charmed Design into a thriving business.
Lori creates inspired designs, using meaningful charms and stones to create handmade wrap bracelets that are modern and trendy. Her silk wrap bracelets, which use hand painted silk ribbons, are her best sellers and were gifted to the nominees and presenters for this year's awards.
Charmed design's jewelry with meaning is available in many styles of bracelets, including leather, satin, and silk ribbon wraps. She also creates handmade custom jewelry by request.
Three designs were gifted to the celebrities. Photos are attached.
Charmed Design is sold online at charmeddesign1012.com and at boutiques and stores throughout the US.
An extended list of the celebrities who received a Charmed Design bracelet: Steve Buscemi, Josh Charles, Ben Kingsley, Jessica Lange, Glenn Close, Jane Krakowski, Tina Fey, Christine Baranski, Katrina Bowden, Alan Cumming, Drew Barrymore, Giancarlo Esposito, Craig Robinson, Dean Norris, Jean Dujardin, Juliana Margulies, Morgan Freeman, Ryan Seacrest, Channing Tatum, and Rachel McAdams.
The gift bag was produced Hollywood Baskets, A-list gift and swag bag provider. Hollywood Baskets creates gift bags for all of the major awards shows, including the Oscars, Golden Globes, and Grammys.
Of all of the top industry awards presented to performers, only the Screen Actors Guild Awards are selected entirely by actors' peers in the Screen Actors Guild.
###