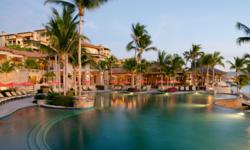 Hacienda's idyllic location and swimmable beach truly set it apart from other Cabo San Lucas resort residences
Cabo San Lucas, Mexico (PRWEB) February 06, 2012
Hacienda Beach Club and Residences announces historically low prices on an exclusive offering of Cabo San Lucas homes. With this limited offering of 12 select residences, Homebuyers can now save up to 48% on an elegant Los Cabos retreat with stunning ocean and marina/mountain views. This premier location offers unprecedented access to downtown Cabo San Lucas, the Marina, Medano Beach, nightlife, shopping, and Cabo's legendary restaurants and attractions. In addition, the next buyer in the promotion may also qualify for a $100,000 special designer turn-key furnishings package. Other special offers include possible credits for resort accommodations and airfare reimbursements for qualified prospective Hacienda homebuyers or a $120 Spa or Restaurant certificate for qualifying visitors participating in a resort tour.* See homes for sale at Hacienda.
"Hacienda's idyllic location and swimmable beach truly set it apart from other Cabo San Lucas resort residences," said Ricardo Ramirez, General Manager at Hacienda Beach Club and Residences. "We are meeting significant demand for a residential resort featuring stress-free Cabo living with personalized and sophisticated service, just steps away from all the excitement Cabo San Lucas has to offer."
Perched on a quarter mile of Cabo's Medano Beach, Hacienda overlooks the iconic rock formations of Land's End and offers an unparalleled getaway experience. Hacienda Beach Club and Residences boasts a variety of real estate options including one, two, three, and four bedroom homes with modern luxury conveniences, artisan finishes, and thoughtfully designed, spacious floorplans. Hacienda offers a unique opportunity to own or rent a Cabo San Lucas beachfront home with resort amenities including a state-of-the-art fitness center, a restaurant and bar, a kid's club, beach activities, and a full-service spa.
For floorplans, galleries, and more information about Hacienda Beach Club and Residences visit http://www.HaciendaCaboSanLucas.com or call US 800.670.0310 or MX 624.173.9100 to speak with a Sales Concierge.
*The prices, plans, and availability shown are subject to change without notice. All pictures, photographs and images are owned or licensed by Hacienda Beach Club and Residences and its affiliates. Any use, reproduction or distribution of pictures, photographs and images without written permission is expressly prohibited.
About Hacienda Beach Club and Residences
Fifty years ago the Hacienda Hotel played host to the likes of Bing Crosby, Desi Arnaz, John Wayne, and Raquel Welch, among many others. Today, that glorious setting has been transformed into Cabo's most irresistible residential enclave. For more information visit http://www.HaciendaCaboSanLucas.com.
About Paradigm Real Estate Solutions
Paradigm Real Estate Solutions, Marketing Consultant to Hacienda Beach Club and Resorts, is a full service national Real Estate Sales and Marketing firm leveraging its proprietary technology platform Marketing Success Portal® to deliver the next generation of real estate solutions for homebuilders, developers and financial institutions. Paradigm Real Estate Solutions' provides market research, proprietary web based technology and internet-centric methods. For more information visit http://www.ParadigmIntel.com.
###