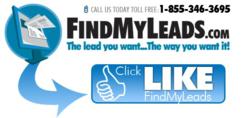 To see younger females gravitating towards and showing interest in these sectors of the internet is a compliment and testament to the strides women have been making in both business and technology
Mission Viejo, CA (PRWEB) February 01, 2012
Results from data compiled by internet lead generation company FindMyLeads.com revealed that men from the 25-54 year old age bracket dominated interest in online business leads generation. The website, known for its compiling and collating of internet generated business leads via landing pages, revealed that through a statistical survey of its website and social media pages that usage among men were far more likely to use their services than women.
A full 54% of website and social media usage for FindMyLeads.com came from men ages 25-54 compared to just 24.5% of women from the same age bracket. An interesting side bar of the released data from the company known for their generation off exclusive business leads showed that younger woman were roughly 70% more likely to use the websites and their accompanying social media. 12% of overall site usage came from woman between the ages of 18-24 compared with a 4.9% use rate from men in the same age demographics.
Younger woman are increasingly becoming more proactive in terms of online use for traditionally male dominated internet services for finance and business. For the company specializing in both exclusive and aged mortgage leads, having a younger demographic of female followers open ups many doors and opportunities that bodes will for its future.
"From several of our online business websites we have noticed an unmistakable trend of younger females showing far more interest in the possibilities offered by our online businesses, far more then their male counterparts," said CEO Jason Mcclain. "If this mean that younger female entrepreneurs are taking a greater role and interest in our and other internet companies efforts to offer credit repair leads for example, it is a very positive sign that woman are making vast strides in terms of internet generated business tools."
Recent studies from the companies other online business venture, CreateMyWill.com also backed and reinforced the trend of younger woman taking greater interest in online business and financial planning websites. The study showed that a whopping 46% of all visits to the CreateMyWill.com online will forms website and social media pages came from woman under 34 years of age; a clear indicator that of the generation raised with the internet, the battle of the sexes is leveling.
"Online Estate Planning Forms and Debt Consolidation Leads are not sexy industries," McClain continued. "To see younger females gravitating towards and showing interest in these sectors of the internet is a compliment and testament to the strides women have been making in both business and technology."
###