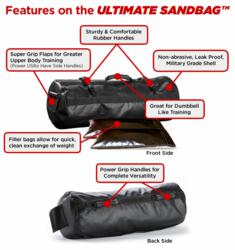 The training more accurately prepares football players for the unpredictable nature of facing a live opponent. Where most strength training is static, the movements and the Ultimate Sandbag itself is dynamic and, as some say, 'non-cooperative.'
Scottsdale, AZ (PRWEB) February 01, 2012
At McConnell Athletics in Fairhope, Ala., Vince McConnell incorporates Ultimate Sandbag™ Training when coaching football players at all levels, including the National Football League. But it's the success achieved by athletes on a college team that's attracting attention.
For the second time in three years, several University of Alabama football players trained by McConnell -- using Dynamic Variable Resistance Training™ -- have enjoyed a Bowl Championship Series national title.
According to the strength/conditioning coach and athletic performance specialist, the Ultimate Sandbag's variable and unstable weight resembles the demands of on-field play. It also doesn't allow athletes to fall into a common groove -- a factor that adds a better "functional" component to resistance.
"The fact that the same-weight Ultimate Sandbag feels different every time an athlete engages it is a benefit because the adaptation curve is greatly extended," McConnell said. "This requires the mind and body to work together in order to be technically proficient in Ultimate Sandbag drills."
Josh Henkin, inventor of the Ultimate Sandbag Training System, designed the exercises to simultaneously improve flexibility, turning on muscles forgotten by most standard weight room exercises and re-training the "right" muscles to take stress off the rest of the body.
"The training more accurately prepares football players for the unpredictable nature of facing a live opponent," he said. "Where most strength training is static, the movements and the Ultimate Sandbag itself is dynamic and, as some say, 'non-cooperative.'"
This instability, McConnell's stressed, requires commitment, patience, and the mind and body working together, which creates a more competitive athlete.
"Our athletes report better mechanical proficiency; lower body explosiveness; and a stronger, more enduring core," he added.
Josh Henkin invented the Ultimate Sandbag Training System after physical therapy and traditional corrective exercises couldn't relieve his lower back pain caused by training and competing as a Division I athlete. Using a homemade sandbag, he developed the original workouts after watching military friends go through physical therapy routines. To date, more than 300 exercises are possible with the Ultimate Sandbag. The system is currently used by professional athletes, military forces and weekend warriors in 70 countries. Additional information is available at http://www.ultimatesandbagtraining.com.
###