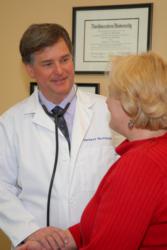 The wires inside the heart are critical to the life-saving therapy an implantable defibrillator provides. That's why it's crucial to create guidelines for heart wire evaluation and management and individualize treatment for patients at high risk.
Scottsdale Arizona (PRWEB) February 01, 2012
When JD went to Arizona Arrhythmia Consultants (AAC) in Scottsdale, Arizona, a comprehensive cardiac electrophysiology practice to see his heart rhythm specialist for a routine check of his life-saving device called a defibrillator, he did not anticipate any problems, because all the previous checks had been OK. But, within a few days he found himself lying on a gurney waiting for a complex procedure called a lead extraction.
"During my visit with the doctor, I learned that the computer inside the defibrillator recorded some unusual activity on the heart wire connected to my defibrillator. My EP doctor asked me to go to the hospital for advanced screening to take a closer look. Under fluoroscopy, (x-ray), he found that the cable inside my heart had an abnormality. We discussed the various treatment options available and decided the best option for me was to have the lead removed and replaced."
In December 2011, St. Jude Medical, a global medical device manufacturer, advised physicians of a potential problem with the Riata line of implantable defibrillation leads. These leads, also called heart wires, were implanted in patients from 2003 to approximately 2007. There are an estimated 76,000 of these leads implanted in the US. On December 15, 2011 the company announced the F.D.A. deemed the letter a Class 1 recall, its most serious designation, because of its potential risks to patients.
Dr. David Riggio, a Cardiac Electrophysiologist from Scottsdale, Arizona and a partner in one of the premier electrophysiology groups in the country, Arizona Arrhythmia Consultants (AAC), found under fluoroscopy that his patient's high-voltage lead had an insulation breach which resulted from externalization of some of the lead's conductor cables in the heart. "The problem appears to be due to a previously unseen form of lead abrasion," reported Dr. Riggio, who is well known in Arizona for his years of expertise in lead management and removal of malfunctioning leads (extraction). "The cables extruded from the body of the lead due to "inside out" abrasion, often without any detectable malfunction. The wires inside the heart are critical to the life-saving therapy an implantable defibrillator provides and any malfunction could result in a life-threatening problem."
Device and lead malfunctions are not unique to this company. In 2007 another manufacturer, Medtronic, experienced a different type of lead failure in their Fidelis lead, which also led to an FDA recall. An FDA recall does not mean that the devices need to be removed and replaced.
Dr. Thomas Mattioni, Director of the Cardiac Electrophysiology program at Scottsdale Healthcare and senior consulting clinical electrophysiologist with Arizona Arrhythmia Consultants (AAC) just returned from the Riata ICD Lead Summit in Minneapolis, Minnesota where 63 registered healthcare professionals and St. Jude Medical industry representatives gathered, organized by the Minneapolis Heart Institute Foundation and the Mayo Clinic. The St. Jude ICD leads currently on recall were subject to intense discussion.
"What's important to remember," Dr. Mattioni said, "is that all heart leads are expected to move with the beating heart millions of times throughout the lifetime of the patient. Although these leads are stringently tested before receiving FDA approval, over time failures can happen and cause dire consequences like inappropriate shocks to the heart or even interfere with life-saving therapy in patients at high risk for sudden cardiac death."
The common theme of the Summit was the unknown significance of this cable externalization anomaly with the Riata lead. "It's not clear what physicians should do at this time," continued Dr. Mattioni. "When these heart lead cables externalize, they can continue to function normally. The externalization is not always associated with failure and there is no single common sign of lead failure on electrical analysis. Only advanced fluoroscopic screenings can reliably pick up these silent abrasions. That is why many cardiac electrophysiologists like ourselves are investigating this problem and are involved in ongoing studies which will give us the information we need to set new guidelines for heart lead evaluation and management."
"There is yet no clear consensus on what should be done for patients with this lead, however it is recommended that patients at greatest risk, such as those who need frequent shocks from their device or who are dependent on the pacemaker portion of their defibrillator, should see a Cardiac Electrophysiologist particularly at a specialty group such as Arizona Arrhythmia Consultants. These patients should be evaluated and closely monitored so that a treatment plan can be initiated related to these "high risk" leads," said Dr. Mattioni.
The Electrophysiologists at AAC have been leaders in Arizona of Device and Lead Management over the past two decades.http://www.AACHeart.com
ARIZONA ARRHYTHMIA CONSULTANTS has a reputation of excellence in delivering the highest quality comprehensive cardiac electrophysiology care. As the premiere Cardiac Electrophysiology (EP) practice in Arizona, AAC physicians are on the forefront of EP technologies and clinical research nationwide focused on heart arrhythmias. They are regarded as the leading authority and innovators throughout the state of Arizona in the research and practice of Clinical Electrophysiology.
http://www.AACHeart.com
The article referenced appeared in print on December 16, 2011, on page B2 of the New York edition with the headline: Heart Device Parts Recalled.
###