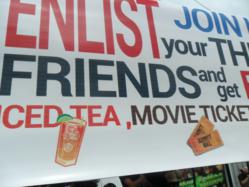 "With our solid reputation, boasting 100% account retention in terms of quality and delivery, we have continually laid the groundwork for growth through diversified services"
Cebu City, Philippines (PRWEB) February 02, 2012
Northern Worx, a prime Knowledge Outsourcing (KPO), successfully held its Sinulog Hiring Activity last Janury 15 where they gave away free refreshments to applicants and participants at the festival. In time for the Sinulog event, CMO Mawit Go said that the festival allows Northern Worx a chance to participate with the annual festivity and provide employment opportunities.
During the activity, applicants submitted their basic information and contact numbers that entitled them to freebies.
"What is indeed very positive is the participation of our employees, as well as, the warm public response on becoming a part of Northern Worx," Go said.
Established in 2003, Northern has served various customers globally for its documentation services. Northern Worx has now evolved into a knowledge process outsourcing company with expertise in call center operations, documentation, and other back office solutions.
"With our solid reputation, boasting 100% account retention in terms of quality and delivery, we have continually laid the groundwork for growth through diversified services," said Mawit Go, Chief Marketing Officer of Northern Worx Inc.
"We believe it is vital that we participate in the Sinulog Festival, as it is the biggest event in this city which we consider to be our Home."
###