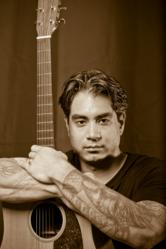 I can help you find reach your goals on the guitar.
Fort lauderdale, Florida (PRWEB) February 09, 2012
This video promises to have absolute beginners of all ages in moments—no matter this age. Dyce's ability to get students playing the guitar right away is winning him lots of new students. First, Dyce shows students the right information. More importantly, he then immediately shows them how to apply that information to make great, fun-to-play music. With Dyce's guidance, any student can turn notes into chords, and chords into cool-sounding grooves. This Fort Lauderdale guitar teacher has methods are so easy that anyone watching this video will be able to quickly play the groove in question—even if they are picking up the guitar for the first time.
Dyce's lesson #4 covers just the chords D Major and G Major. Dyce isolates these two chords, showing their similarities and differences. Both have lots of open strings, and warm, happy sounds. Dyce also urges his students to not get hung upon the fingerings, or making the chords sound "perfect." Instead, he gets students to jump right into the groove, by focusing on switching back and forth between the two sounds. This gives beginning guitarists a real confidence boost—as they start playing a great-sounding jam right away. It also helps that the video features expert production—complete with easy-to-read graphics—where students can clearly see how to finger both chords on the fret-board.
This Weston guitar teacher also gives some great advice to approaching the guitar that any beginner can use: don't spend too much time staring at the fret-board. Many beginning students spend too much time staring at their hands, making them fall prey to bad habits later on, like bad posture, and bad form. By urging students to not look at their hands—from the very first lesson—Dyce is getting these beginners to play with more confidence, and avoid some common bad habits.
Dyce's 1-on-1 Weston guitar lessons and Skype guitar lessons are popular for a reason: they make learning just so easy. All that is required is a high-speed internet connection, a webcam and mic—standard on any newer computer, a Skype account (easy to create), and headphones (optional).
For more information on Dyce's latest video—or signing up for lessons via Skype—call 786 457 3687 today.
###