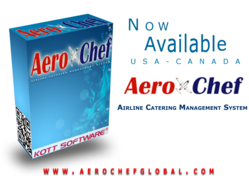 Re-defining Catering Management Systems across the globe.
Rockville, MD (PRWEB) February 07, 2012
"AeroChef" – the revolutionary web-based Enterprise Resource Planning (ERP) solution for centralized management of Flight Kitchens and Airline caterers is now available for the American and Canadian caterers that offer In-flight Catering services for large airlines or Private Jet Caterers. The software solution is specifically suitable for large air caterers and food production companies that need to support multiple worksites & airlines.
"AeroChef" covers the core business processes for major airline caterers and offer an ideal platform for efficient management and delivery of services for Inflight Catering operations. The functionality includes menu management, food costing, production management, logistics, purchase management, inventory control, invoicing and reporting across multiple locations.
The software system integrates the functional modules that make airline-catering operations efficient,reduce costs and provides instant visibility across core process with visual dashboards, management alerts, exception notifications and MIS reports across global sites. The solution is offered in SaaS model or installed in client's network with web services and integration frameworks to work seamlessly with internal legacy systems.
The US catering industry can reap benefits of cost savings and increased workforce efficiencies by rapidly assimilating new technology such as mobility applications included with the software says Mohan Mathew, Director - Business Development for "AeroChef". Airline catering business need to cut costs, increase productivity and streamline business processes in the current global economic scenario.
Kott Software developer of "AeroChef" software system is an active member of ITCA (International Travel Catering Association) and has support centers in USA based out of Rockville, Maryland on the East Coast and San Jose, California on the West Coast. "AeroChef" solution is available for large and small medium business enterprises including smaller caterers who undertake events and private jet catering.
For more details, please visit http://www.aerochefglobal.com
###