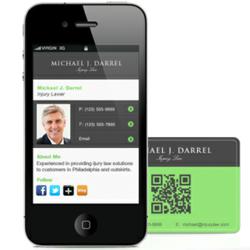 Toronto, Ontario (PRWEB) February 02, 2012
Sitomic.com, a mobile site publishing platform, launches free Mobile Business Card Builder. The builder allows clients to create fast-loading mobile profiles that can be connected to printed media via QR codes. Free service comes with access to over 20 professional templates, content management system, visitor analytics, and QR code generator.
Mobile business cards offer an efficient way of information exchange. Printing a QR code on your business card, trade show badge, or newspaper ad allows people to retrieve all of your contact and social information with a quick scan. All mobile cards feature one-click share functionality and can be passed on via sms, email, social networks, or downloaded as v-cards and added to the phone's contact book.
Sitomic Business Cards are optimized for all major smartphone platforms and hosted on a fast cloud network that minimizes loading times. "Loading speed is a major concern in mobile browsing. An average mobile user will not wait for more than 5 seconds for a page to load. It is our main goal at Sitomic to create sites that don't make people wait," said Sitomic's co-founder Dmitri Sennikov.
Creating a mobile card takes about 5 minutes and does not require immediate account sign-up. Everyone has a chance to build a business card and evaluate the service without prior need to provide any personal contact information. If the user would like to keep his/her site permanently, they will be asked to enter a valid email address, where member login information will be sent.
To see how Sitomic works, visit http://www.sitomic.com to create your mobile business card. See demo on your mobile device by going to http://mdarrell.sitomic.com.
###