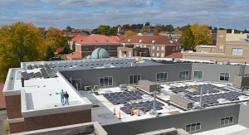 With the installation of more than 400 photovoltaic solar panels complete, the year-old building is the largest roof-mounted solar power complex in the state, said James Vaughan, CME director.
New Orleans, LA (PRWEB) February 01, 2012
The University of Mississippi and Joule Energy, an integrator of high-efficiency solar systems, have announced the completion of a roof-mounted solar installation on the university's Center for Manufacturing Excellence, to date, the largest solar roof installation in the state of Mississippi. The project was funded by a renewable energy grant awarded to the university by the Mississippi Development Authority, which was part of a larger pool of funds established through the American Recovery and Reinvestment Act of 2009, and subsequently allocated to the state.
While the project's initial meetings focused on designing for maximum power output, it was soon determined that utilizing the opportunity to showcase and compare various solar technologies would better enable the university and its students to reap the most significant value from the work being done. The system is comprised of independent configurations of solar technologies and is comprehensively monitored to show real-time power production for each configuration, in addition to magnitudes for conditions most affecting the system's output (ambient temperature, wind speed, and irradiance). The monitoring display is located within the building, and all production information can also be accessed online following the link: (http://datareadings.com/client/moduleSystem/Kiosk/site/bin/kiosk.cfm?k=RM7vdryt). Because of its special design, the system will serve as a highly-engaging, hands-on teaching tool for enabling the study of solar within the university's curriculum, and for researching the technology's viability and long-term benefits.
The system incorporates two brands of solar modules, each with unique operating wattages and efficiencies, as well as three inverter technologies, including a central inverter, micro-inverter array, and two hybrid string inverters with optimizers. Collectively rated for over 107 kW of DC Power, the system consists of three hundred and ninety-two (392) Siliken ART-245 watt modules and thirty-nine (39) Sunpower E19 320 watt modules. The solar arrays are mounted across three prominent university buildings and are inter-connected to the electrical grid for the supply of back-up power. Joule Energy is proud to have contributed to this landmark project, and looks forward to future opportunities to combine solar energy and education. A history making time lapse can be seen at: http://zing.olemiss.edu/mississippis-largest-roof-mounted-solar-power-complex-operating-at-um/
About Joule Energy
Joule, a Louisiana owned and operated solar integration company, was founded on the principle that investing in solar energy can be as beneficial to the bottom line as it is to the environment. Our experienced company has installed megawatts of solar panel systems in the gulf region, creating substantial savings for homes, businesses, educational and government facilities. We are also proud to know that our work furthers development in renewable energy, encourages environmental awareness, and takes us one step closer to energy independence. Our service is attentive; our designs are inspired; our installation is superior. Please visit our site: http://www.Joule-Energy.com
# # #