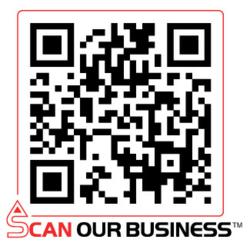 Milwaukee, WI (PRWEB) February 01, 2012
The popularity of smartphones and other mobile devices has reached record levels, with 2011 smartphones sales poised to reach 420 million units. Businesses and consumers across the nation are clamoring for the benefits and convenience of mobile technology, such as QR (Quick Response) codes and mobile websites. Scan Our Business, Inc. recently released a new website that helps businesses take advantage of mobile marketing opportunities while protecting them from dangerous security issues. While the market for products targeted at mobile devices also grows exponentially, so too does the threat of fraud, identity theft, and other harmful problems. In an ever-evolving mobile marketplace, Scan Our Business provides proactive security solutions and supports increased consumer awareness.
The opportunity for businesses to increase profits through the use of mobile marketing is staggering. While less than 18% of all radio and TV ads even achieve a positive ROI, mobile marketing strategies can increase ROI by 30% or more. "With mobile phone users outnumbering computer users 4 to 1, businesses that don't use mobile marketing are missing out on many, many customers," says Donna Gunter, Internet Marketing Strategist & Online Business Coach. A recent study by the Association of National Advertisers and the Mobile Marketing Association found that a whopping 88% of brand marketers are using mobile marketing techniques in 2011; and mobile ad spending is expected to rise 27% to $2.1 billion.
The message is simple: Businesses must adapt to the mobile trend or fall hopelessly behind…
As forward-thinkers eagerly adopt cost-effective mobile technology to reach people on-the-go, QR codes are quickly emerging as one of the best ways to connect with prospective clients. A QR code is a type of matrix barcode which instantly links mobile users to information about a product or service. Wildly popular, they offer fast readability, convenience, and comparatively large storage capacity. Users simply take a picture of the code and a QR reader application (either preinstalled on their device or easily downloadable) provides access to information which is instantly viewable on the device. Lightning fast, this immediate exchange allows customers to get info without even typing a thing. In the USA, QR code usage is expanding at a break-neck pace, and in June 2011 alone, 14 million mobile users scanned a QR code or a barcode.
In response to this new wave, turnkey companies such as Scan Our Business, Inc. are making it easier for businesses to improve the bottom line with QR and mobile website technology. On Sept 21, Scan Our Business unveiled a new website that enables clients to easily plug in their information and provides them with a customized QR and mobile marketing package.
However, all this golden opportunity comes with a high price…
Consumers and businesses who want to ride the QR wave must prepare for a virtual Pandora's box of potential e-dangers including codes that link to dangerous websites, expose sensitive data (passwords, files, contacts, transactions), corrupt privacy settings, contain viruses, and even steal identity. These actions may occur in the background while the user only sees the reader opening a harmless webpage.
"It's all about staying one step ahead of viruses and spyware… every time a new technology is developed, someone is just waiting to jump in and exploit it. We anticipate such pitfalls ahead of time and provide our clients with a simple, recognizable, secure forum to enter the world of mobile technology. Scan Our Business is handy tool for companies to increase profitability and simultaneously provide safe and trustworthy information," explains Wyss.
Without proper precautions, even legitimate businesses can fall victim to tech predators, as QR codes are easily created and may be affixed over legitimate QR codes. Scan Our Business, Inc. has prepared for this and includes a watermark with all their QR codes that builds brand recognition and guarantees a potential user that the code is safe to scan. Packaging this service with a customized mobile website they also provide clients with materials such as QR decals for stores/autos/etc., and digital copies of the marketing material to be used with correspondence.
With the recent debut of Apple's iCloud, mobile technology is now reaching a fever pitch. QR codes and mobile websites offer businesses a tool to keep pace with the winds of change. In the midst of this tech tornado, companies like Scan Our Business, Inc. help people capitalize on mobile marketing and avoid the perfect storm.
Scan Our Business offers business a complete mobile marketing solution that is user friendly and safe for the consumer. Established in 2011 with the primary goals of making a user friendly, inexpensive, safe environment for the use of QR codes for all business' and consumers. the base idea came from Jeremy Wyss the CMO (Chief Marketing Officer) of Peak Studios an internet marketing and web design company that works with all different types of small business' and corporations. "The world of mobile marketing is here to stay it is time to become part of it, QR codes are the solution."
# # #