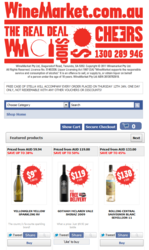 If businesses start thinking more about how they can create a special or exclusive experience for their fans via their Facebook shop, they will see a big change in the success of their store
(PRWEB) February 08, 2012
Rewarding Facebook fans with exclusive offers and deals is the key to a successful retail strategy on the social networking site. Australian liquor merchant Wine Market uses a VendorShop Facebook shop. They are proving that the right strategy can lead to success with f-commerce (Facebook commerce).
A few recent articles have claimed that f-commerce hasn't lived up to expectations for retailers. However, Chris Small, CEO of f-commerce technology provider VendorShop Social, said this was more likely to be a case of retailers still getting to grips with how to leverage the platform effectively, rather than the fact it doesn't work.
"If businesses start thinking more about how they can create a special or exclusive experience for their fans via their Facebook shop, they will see a big change in the success of their store." Small said.
Wine Market uses the VendorShop f-commerce shop application with great success. The company has just 10,000 fans on Facebook, yet in the last 10 weeks they have sold almost $50,000 in wine via their Facebook store. One of their best offers was a free case of Stella Artois exclusively for Facebook purchases – they sold 100 cases of wine within hours of launching the offer. Other exclusive offers for fans have included special mixed cases and free delivery.
Paul Marsden of Social Commerce Today wrote about another good example, the Lacoste's 'pop-up' Christmas Facebook store. Fans who purchased from the store received free delivery and a gift. Lacoste is recognising and rewarding their fans with a different experience than can be had via their other channels. "We don't have access to their sales figures but they are definitely heading in the right direction, although they could go much further" said Small.
ASOS has reported that their Facebook shop has not been particularly successful from a sales perspective. A closer look at it provides some indication of why that might be, "Their Facebook store is essentially a reproduction of their web store and there's not really a compelling reason to shop there compared to other channels." said Small. He went on to say, "What if they launched a new range or style to their Facebook fans first, how compelling would that be?"
Showing fans how much they are valued by rewarding and recognising them with fan only and fan first offers and deals is at the heart of a successful Facebook store. The Wine Market store illustrates the opportunity for brands if they go about it the right way.
Whether it's in a physical store or online, it is essential for businesses to create a compelling reason to buy for your customers. Do it on Facebook and the business will not only turn the channel into an effective sales tool, but they will also create powerful advocates who will engage and share with their friends and drive sales across other channels as well.
About VendorShop Social
VendorShop Social was founded in September 2010. The company's Facebook commerce software is free to install and offers merchants the opportunity to sell directly on Facebook without customers leaving the social networking site. The software powers thousands of Facebook shops worldwide and has 150,000 active users. Merchants cover sectors such as fashion, food, ticketing, charity and arts and crafts in markets such as the United States, United Kingdom, Australia and Asia.
VendorShop's development team also provides custom development services and was responsible for developing one of the first mobile top-up stores on Facebook and customised solutions in the retail sector.
Visit http://www.vendorshopsocial.com or http://www.facebook.com/vendorshop for more information.
###