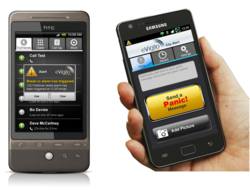 Informing the public in times of crisis is crucial to prevent panic and manage the population effectively
London, UK (PRWEB) February 01, 2012
City Alert™, developed by eVigilo is an interactive multi-channel dissemination system that improves the alert and information capabilities of the municipalities to and from the population. The system enables the population to receive alerts and information across multiple devices such as mobile and fix phones, personal computers, email, SMS, billboards, smartphones etc.
Interactive "Panic Alert" application enabled across different devices such as smartphones and PCs allows real-time geo-tracking of people in distress and facilitate rescue measures.
Head of the municipalities organization has said: "eVigilo is a professional company standing at the forefront of HLS technology. I hope and believe that the cooperation between the municipalities and eVigilo will contribute to the personal safety of the citizens."
In frame of the executed Safe-City concept, eVigilo City Alert™ connected also successfully to earthquake sensors, electronic border controls as well as to Motorola video and motion surveillance systems. eVigilo City Alert™ enabled the authorities to utilize the generated information input to send automatic as well as manual alerts geo-targeted to special forces and the population.
eVigilo's CEO Guy Weiss has added: " Informing the public in times of crisis is crucial to prevent panic and manage the population effectively. We are confident that this project will be adopted by additional municipalities, helping us to expand our Safe-City agenda to increase the personal safety and security of the population. "
About eVigilo
eVigilo designs and develops the industry's only fully-integrated mass alert platform that can reach millions of people in just seconds, to substantially improve personal safety and save lives. Supporting communication between multiple alert channels, eVigilo line of products are both holistic and flexible alert platforms. Thus, eVigilo provides the most effective and efficient turnkey solution for mass alert systems, used by governments, homeland security agencies, municipalities and industrial organizations. For more information please visit http://www.evigilo.net
###