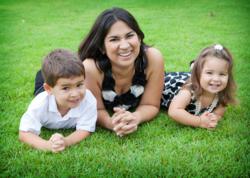 Kids can smell a 'learning toy' a mile away. At SmartMouthLearning.com, I only stock books, music, dolls and bilingual toys my own kids would actually want to play with. - Consuelo Bova, Founder/CEO, SmartMouthLearning.com
Orlando, Florida (PRWEB) February 07, 2012
As the only Spanish-speaker in her household and a working mother of two, Miami, FL native and Orlando resident Consuelo Bova found sharing Spanish language with her children a real mouthful, "My parents had it easy- Spanish was the primary language for both of them: they spoke Spanish to the children, the children learned Spanish. My husband only speaks English." If only one parent is fluent in a second language, how do you speak the language at home frequently enough to teach your children, without effectively excluding the other parent from conversations- such as around the dinner table? How does that work? "It doesn't," laughs Bova, founder and CEO of the new online, children's foreign language learning book and toy store SmartMouthLearning.com, "that's why I had to find some alternative means of supporting my own teaching efforts."
Bova, the founder and CEO of another, popular online short men's clothing and tall slim clothes retailer, ForTheFit.com, described spending significant time and resources trying to identify support materials and alternative means of teaching Spanish to her children, ages 2 and nearly 5. "As a working mom, my time is really limited. I couldn't believe there was no single store, no one place where I could easily find a collection of toys, games, books and other support materials that were functional, educational, and relevant." A big believer in support materials as a means of promoting second language acquisition in children, Bova took matters into her own hands by launching SmartMouthLearning.com. Bova explains that the key to using support materials to enhance children's language learning experience is, quite simply, fun: "Kids can smell a 'learning toy' a mile away. My goal was to find things my kids actually wanted to play with." SmartMouthLearning.com makes her best finds available to parents everywhere, assembling the web's most complete collection of truly fun and on-trend toys, games and books for children learning a variety of languages. SmartMouth features toys, books and games in Spanish, French , Italian, and Chinese, with new languages and materials added regularly. The site went live for a soft-opening in late November 2011, but the official launch occurred in February 2012. So far so good, reports Bova, "Even during the 'soft-opening', parents were enthusiastic about our concept and offered great feedback to shape our product mix for the grand-opening. We are grateful for that enthusiasm for children's foreign language learning."
Bova is also interested in building a community of parents and educators that can support each other in the language learning journey. "I blogged for a little more than a year before ever launching SmartMouth, with all manner of topics ranging from teaching tips and product reviews, to personal stories about my own kids." She was overwhelmed with the response, "We have an active following of parents and educators on our blog and Facebook pages and we hope to add more, since more voices translates to an ever-increasing pool of knowledge on how to make teaching foreign languages to our children easier and more fun for parents and kids alike."
Foreign language learning was integral to my upbringing- Spanish was my parents' primary means of conveying our cultural heritage to me. I learned French and German so that I could live abroad- an experience that shaped so much of who I am today. Language has been a gift in my life, and one that I am eager to share with my children." With SmartMouthLearning.com, she hopes to help many other parents and educators do the same.
For more information, please visit http://www.SmartMouthLearning.com or contact Connie via media(at)smartmouthlearning(dot)com
###