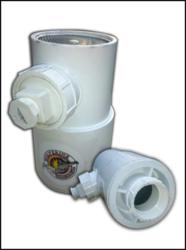 We thank you a lot. We Had the 'Trail of Lights' [event] for Christmas and the ARV filters we just installed saved the day.
West Milford, NJ (PRWEB) February 07, 2012
Simple Solutions announces the introduction of a new air release valve odor filter. The Wolverine Brand air relief valve filters (ARV-1.2 and ARV-5) are small, activated carbon filters designed to fit in close quarters for mounting to air relief valves (CAV). The Wolverine Brand air relief valve odor filter is available in two sizes and will fit in almost any confined space.
The ARV-1.2 and ARV-5 come with a 2" FPT inlet for quick, easy mounting to most air release valves. Custom inlets are available upon request. The ARV odor filter was designed with municipal budgets in mind, making it not only a functional filter providing years of trouble free service, but also economical and easily rechargeable.
About Simple Solutions Distributing
Simple Solutions Dist LLC is a registered small business founded in 2003 and located in the state of New Jersey. Their primary focus is in municipal wastewater odor control caused by hydrogen sulfide (H2S) gas emissions. Their primary product line for this purpose is the Wolverine Brand Industrial Vapor Phase Adsorbers. More commonly known as odor scrubbers or air scrubbers, their standard units range in flow rates from 0 to 700 CFM with larger air scrubber systems available as special order. As a full service odor control supplier to the wastewater industry, they also carry a line of passive vent and low flow air scrubbers, manhole filters and inflow protectors.
A fast growing demographic for the company's products is the solid waste industry, more specifically landfill vent odor control/gas emissions control. With global warming becoming an ever increasing part of our life, coupled with the urban sprawl that has brought residential neighborhoods close to the once isolated landfill, reducing the methane and H2S gas emission is becoming a challenge for today's operators of our nation's landfills. Vent emissions from the landfill, whether it be nuance odor from H2s, or greenhouse gas emissions (methane), Simple Solutions has a solution to meet most any budget. The most affordable solution for the landfill vent is the Pollution Control Barrel. This Activated Carbon Scrubber is a passive vent scrubber that is easily attached to the outlet vents. If active venting is your engineer's choice, their line of industrial vapor phase adsorbers are ready to go to work for you.
###