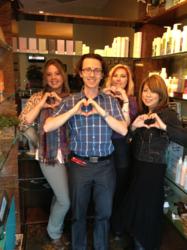 What better way to honor love this February than by giving to the American Heart Association
Fairfax, VA (PRWEB) February 02, 2012
Salon Khouri, an acclaimed Northern Virginia hair salon described by Northern Virginia magazine as "an innovative beauty respite that defies the ordinary" has announced that they will be donating $5 from every color service to the American Heart Association in February.
"We thought what better way to honor love this February than by giving to the American Heart Association," said Jonathan Elkhouri, owner and Master Hairstylist at the Fairfax hair salon.
Since opening their doors in 2006, Salon Khouri has always found ways to give back to the community. To date, the salon has raised over $7300 for pediatric cancer research funding through their yearly Cut-a-Thon to "cut out" neuroblastoma in honor of Ashburn, VA resident Taylor Love. Salon Khouri also holds an annual "Pink Hair for Hope" campaign where proceeds raised go toward Breast Cancer Research. To date, the salon has raised $2620 toward this program. Other community programs include an annual food drive, a recycling program, and participation in the Pantene Beautiful Lengths program which donates wigs made from donated hair to cancer patients.
"Probably one of the most unique programs we've participated in was with Matter of Trust where we were sweeping up hair clippings and mailing them to them to make hair booms to clean up the oil spill in the gulf. It was an amazingly simple concept that worked," stated Jennifer Elkhouri, co-owner of Salon Khouri.
For more information about any of Salon Khouri's products, services, or community efforts, call 703-273-7878, view the salon on the web at http://www.salonkhouri.com or visit 11725 Lee Highway in Fairfax, VA.
About Salon Khouri
Salon Khouri was founded in 2005 and is located in Fairfax, VA. The salon offers a full menu of hair services and is a top-rated salon in the Northern Virginia area. Owner Jonathan Elkhouri has trained with Nick Arrojo at his SoHo, NY studio and is a stylist to several Washington DC celebrities. Services include haircuts, colors, highlights, keratin treatments, extensions, and waxing.
###