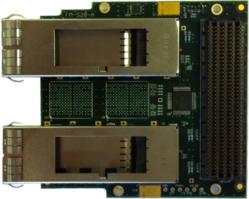 Support for 10 Gigabit demonstrates our commitment to providing the highest performance and lowest latency networking solutions to our customers
Katy, TX (PRWEB) February 01, 2012
Faster Technology announced today support for 10 Gigabit Ethernet across their entire line of high speed networking FMC modules. These FMC (FPGA Mezzanine Card) modules are based on the VITA 57 standard and enable various forms of input/output protocols when connecting to a FPGA (Field-Programmable Gate Array) on a carrier card. With four or eight channels on a card, the upgraded reference design now facilitates up to 160 Gigabits per second of bidirectional data flow on a single FMC module.
The upgrade was performed using two of the latest Xilinx 7-Series development boards, the KC-705 and VC-707. On the KC-705, four channels of bidirectional serial data were run at 10.3125 Gigabits per second to achieve an aggregate bandwidth of over 80 Gigabits per second. On the VC-707, sixteen channels of bidirectional serial data were run at 10.3125 Gigabits per second using two FMCs to achieve an aggregate bandwidth of over 320 Gigabits per second on a single development board, clearly demonstrating the high bandwidth density possible with FMCs.
By taking advantage of the ability to connect directly to the FPGA and Xilinx's embedded multi-gigabit transceivers, Faster Technology attains 10 Gigabit rates with minimal latency by eliminating the external physical layer device traditionally used in 10 Gigabit systems. The 10 Gigabit capability and the low latency of these FMC modules is critical in latency sensitive applications such as financial analysis and trading systems and high performance computing.
"Support for 10 Gigabit demonstrates our commitment to providing the highest performance and lowest latency networking solutions to our customers" said John McCaskill, President of Faster Technology.
Faster Technology's full line of FMC modules is currently on display at the Xilinx booth at DesignCon 2012 located in Santa Clara, CA, January 30 – February 2. For those unable to attend the show, a short video demonstration is available on the Faster Technology Official YouTube Channel.
About Faster Technology:
Faster Technology, LLC develops high-performance Xilinx FPGA solutions that maximize processing throughput while minimizing latency. Targeted designs for the financial, defense, seismic and medical industries provide high performance computing at the very edge of the network connection. The company is a Xilinx Alliance Program Partner and offers custom design services.
Faster Technology is also the Xilinx Authorized Training Provider for Texas, Colorado, Utah, Oklahoma, Arkansas, Louisiana, Wyoming, Montana, and Southern Idaho. Courses include a wide range of options from the introductory level to the expert level including topics such as: FPGA design, embedded systems development, connectivity, DSP design and HDL languages.
###