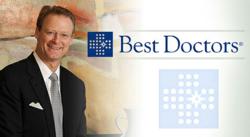 I consider it a great honor to be recognized by my colleagues as a "Best Doctor" for my work as a plastic surgeon, a career that I find immensely rewarding.
Houston, TX (PRWEB) February 01, 2012
Dr. Henry Mentz was honored to be selected as a "Best Doctor"—a prestigious roster that represents the top five percent of physician experts in the nation across more than 400 specialties and subspecialties of medicine—many of whom have affiliations with the country's leading medical institutions. It is the fifth year in a row the surgeon has received the distinguished award.
Founded in 1989 by Harvard Medical School affiliated physicians with the purpose to provide people with access to the best minds in medicine, the database features doctors who are chosen based upon a comprehensive peer-review process. This includes an extensive survey of doctors that is conducted to identify the most respected physicians in their respective specialties. Best Doctor research team members perform a rigorous review of each candidate, monitoring current licensure, board certification and malpractice incidents. In addition, they evaluate factors that demonstrate specific expertise within a specialty including the nominees' published works and research.
For Dr. Mentz, the Best Doctor award comes on the heels of a year filled with many notable accolades. A new plastic surgery textbook featured his renowned facelift methods in a chapter he wrote which details the most effective strategies to correct laxity of facial soft tissues. In addition, Dr. Mentz received invitations to speak at the Texas Society of Plastic Surgeons 2011 meeting regarding his group's study findings on the unique Ideal Implant for breast augmentation, while his expertise in the use the use of stem cell enriched fat grafts for cosmetic plastic surgery was the focus of a presentation at an international conference in Miami that drew medical and science professionals from across the globe.
Dr. Mentz's innovative Abdominal Etching® procedure, a now widely-performed liposuction technique he invented in the early 1990s to surgically sculpt a muscular "six-pack", captured the media spotlight late last year when the television program Inside Edition brought its camera crews to his private surgical facility as part of a news story on the popular cosmetic surgery procedure.
As the nation's first triple board certified plastic surgeon, Dr. Mentz blends the specific techniques and skills of his board certifications in facial plastic and reconstructive surgery, plastic surgery, and head and neck surgery to achieve remarkable, comprehensive, and natural-looking results. Dr. Mentz has received numerous awards and global recognition for his surgical excellence and his groundbreaking contributions to the field of aesthetic plastic surgery.
###