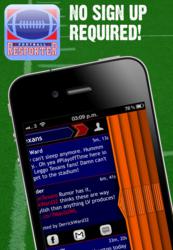 "Now people don't need to be hooked into social media to enjoy the latest talk from the people who make it." Carl Pugh, Director, Head First
Manchester, UK (PRWEB) February 01, 2012
Many football fans are avoiding joining Twitter and Facebook for fear of being overwhelmed by too much noise, not enough content about the sport they love, and a host of privacy issues.
Experienced iOS developer, Head First, thinks it has the answer in new technology it calls ReSporter.
By helping focus on specific interests, such as football, ReSporter takes away all the searching and signing up associated with social media.
It's a risk-free way of seeing what key football players are saying, as they say it.
ReSporter Football keeps the social conversation relevant through proprietary backend server technology which manages the whole process and leaves the user free to read and share the best news about their favorite sport.
During game times ReSporter Football works even harder and brings together REAL TIME conversations from around the world, all significant and of interest to the football fan.
Carl Pugh, Director comments, "Now people don't need to be hooked into social media to enjoy the latest talk from the people who make it." He adds, "Even hardened social media users can use ReSporter: Football to focus on the sport and the people who play it."
ReSporter Football features in full:
Follow your footballing heroes and get the news from the people who make it
Get the buzz AS IT HAPPENS in LIVE SEARCH
Share conversations through Twitter, Facebook or Email
Create 'ReSporters' by nominating inspirational conversations
View conversations on the ReSporter Map
Customise the look through Themes
No sign up required!
ReSporter: Football is available NOW on the App Store for iPhone and iPod Touch for GBP £0.69/ USD $0.99 /€0.99. Additional theme packs are available through an in-app purchase priced GBP £0.69/ USD $0.99 /€0.99.
ReSporter App Store link: http://itunes.apple.com/us/app/resporter-football/id471898544?ls=1&mt=8
For more information please contact:
Dom Conlon, Head First
E: dom(at)head-first.co.uk
T: +44(0)161 228 6699
About Head First Communications
Head First is an advertising agency which aims to excite. With a roster of great clients (Capcom, Rockstar, 2K Games, Activision, Namco) and a bucketful of projects (Dead Rising 2, Ben 10, Mafia II, Saints Row), the company has produced a number of critically acclaimed Apps including Super Twario, SPiN Galactic and Swing Pong.
###