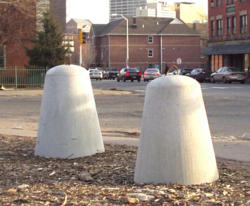 Manchester, CT (PRWEB) February 02, 2012
Dawn Enterprises, elite manufacturer of precast concrete outdoor site amenities, supplied Springfield Technical Community College with moveable concrete bollards. More specifically, Springfield Technical Community College opted for the moveable bollards to measure 26" in diameter and 28" in height. Weighing 800 pounds each, the moveable bollards are large and heavy enough to serve their purpose as barriers, yet designed to be moved as needed using heavy equipment.
For more detailed information on the moveable concrete bollards, you can contact Dawn Enterprises at 1-800-262-3296 or visit http://www.godawn.com/category/movable-bollards.htm
Headquartered in Manchester, Connecticut, Dawn Enterprises is a green-friendly company and can manufacture any of their products (benches, bollards, tables, planters, waste receptacles, ashtrays, bollard covers, chairs) utilizing recycled and sustainable materials. Visit their website at http://www.godawn.com.
####