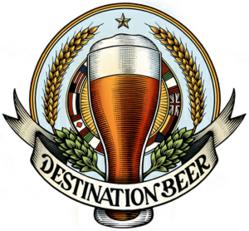 DestinationBeer.com is Andrew Distributing Company's retailer-focused approach to educate retailers and consumers about how to appreciate, celebrate, compare, pair and discover Texas', North America's, and the world's best beer
Dallas, TX (PRWEB) February 01, 2012
Magic Logix recently launched http://www.DestinationBeer.com, a free resource provided by Andrews Distributing Company. The website launch included a custom redesign and HTML5 custom CMS development using Symphony CMS, along with ERP integration.
DestinationBeer.com features a "Knowledge Keg" section that was created to show different attributes about our beer brands. Products can be browsed from the menu options (brewery, style, type, availabilities or DISC) or searched by brand in the search box. "DestinationBeer.com is Andrew Distributing Company's retailer-focused approach to educate retailers and consumers about how to appreciate, celebrate, compare, pair and discover Texas', North America's, and the world's best beer."
About Magic Logix
Magic Logix is a Dallas-based interactive digital marketing solutions provider that focuses on driving business growth by merging creativity, technology and online marketing. Through rapid growth and partnerships with national and international establishments, Magic Logix globally delivers the solutions necessary for business expansion. Our in-house staff applies the latest technologies to produce high-quality ecommerce solutions and dynamic Web presentations. By fusing your company's strategic vision with its culture, we work to create a marketing campaign that yields profitable results.
Magic Logix is a GSA certified and TXMAS contracted company, qualified to provide Web-based marketing and internet advertising to US governmental agencies. In addition, we were recently awarded a spot in the esteemed Inc. Top 500 fastest growing companies in the US. Magic Logix works to achieve client goals by providing customized Web-based services and solutions within any given set of parameters, including budget, time and customized service. For more information, please visit our website at http://www.magiclogix.com.
###