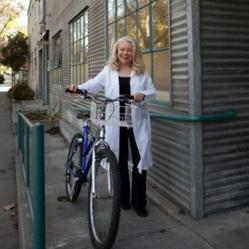 Why expose our children to nano sunscreens when better, exist? So, yes, I think that we should follow in the footsteps of Australia's Education Union and FoE." Marie Veronique-Nadeau
(PRWEB) February 01, 2012
ABC Australia reports the environmental group Friends of the Earth is observing back-to-school week in Australia by sending 50,000 leaflets to teachers warning them of the possible risks to themselves and their students of using nano-sunscreens. According to Marie Veronique-Nadeau, founder of natural skin care company Marie Veronique Organics, the leaflet distribution idea came about after the Australian Education Union (AEU) issued a resolution that invoked the precautionary principle. She states, "We believe the Australian Education Union and Friends of Earth are suggesting not enough is known about the effects of nanoparticles on human health and the environment. So, why not use the alternative non-nano sunscreens that are readily available?"
Marie praises the FoE and Australian Education Union for their efforts: "This seems a reasonable idea, especially in light of the US National Academy of Science's recent call for further study of nanomaterials to close our ever-widening knowledge gap. So, is the risk to the public of unmonitored nanoparticle use sufficient that we should, here in the US, take a lesson from Australia's Education Union and FoE and step up our own advisory efforts?"
Nanoparticles are defined as objects measuring between 1 and 100 nanometers across at least one dimension. Marie explains, "These very small particles do not always exhibit the same behavior as the same particles at a larger size, and therein lies the problem. Because a substance is deemed safe at bulk particle size does not mean that its nano-sized version is also safe."
In the cosmetic industry the number of products in which nanoparticles appear is growing all the time, but their first widespread use was in the form of tiny particles of zinc oxide and titanium dioxide in sunscreens, which could then be labeled "transparent." The Australian Therapeutic Goods Administration argues that nanoparticles are acceptable in sunscreens by citing studies that show that zinc oxide and/or titanium nanoparticles do not penetrate past the epidermis, there is at least one study by Professor Brian Gulson of Macquarie University, published in the journal Toxological Sciences, which indicates that they can be absorbed by the body, where they can remain for extended periods of time. Even researchers whose studies claim that the epidermis provides an adequate barrier do concede that further studies are needed where the epidermal barrier is compromised, for example, in cases of sunburned or eczematous skin. It should also be noted that infant and very young skin is thinner and more permeable than adult skin. Mark R. Wiesner, engineering professor at Duke University and a member of the panel, says, "The number and variety of nanomaterials that is possible is just mind-boggling. There are not enough beakers to do all the experiments required."
"The case for at least doing more towards informing the public of potential risks associated with nanoparticles is a strong one. We do know that some nanoparticles in sunscreens can generate free radicals that can damage DNA. And while the jury is still out on whether they pose more serious hazards, it will only take one definitive study to graduate nanoparticle use to the level of a public health issue. At this point in time, given the possible risks, I would urge that at the very least we look to protect children by abiding by the precautionary principle, acting to prevent harm when evidence indicates that something may be harmful. Why expose our children to nano sunscreens when better, non-nano sunscreen alternatives exist? So, yes, I think that we should follow in the footsteps of Australia's Education Union and FoE, step up our own advisory efforts, and recommend that children use non nano sunscreens," states Marie.
ABOUT MARIE VERONIQUE ORGANICS
As a former chemistry teacher, Marie developed Marie Veronique Organics with her daughter, physicist Dr. Jay Nadeau. Marie's goal was to create a skin care line that would allow her to age gracefully and naturally. "We are honored to provide you with the smartest anti-aging products on the market. We have a deep scientific understanding of the aging process and we look to nature to provide ingredients that will nourish the skin to aid in slowing down the aging process," says Marie. Marie Veronique Organics operates responsibly and sustainably, sourcing fair trade, organic, and/or locally grown whenever possible, and using biodegradable products, labels, and easily recyclable packaging. Ten percent of company profits are donated annually to The Acumen Fund, a non-profit dedicated to creating better opportunities for women and children in Third World countries. Marie Veronique Organics' award-winning facials are available in select spas, including:
-Solage – voted #1 spa in the Americas and Caribbean by Conde Nast Traveler readers.
-The Inn at Palmetto Bluff – recognized by Travel + Leisure as the #1 spa in the U.S.
-Esperanza – recognized by Travel + Leisure as the #1 spa in Mexico.
###