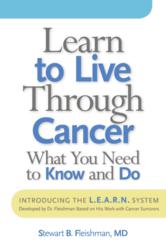 "…an exceptional guidebook for people who have just learned that they have cancer and want to know the ins and outs of cancer treatment while maintaining good quality of life."-Mary Jane Massie, MD, Memorial Sloan-Kettering Cancer Center
New York, NY (PRWEB) February 02, 2012
The American Journal of Nursing has named Learn to Live Through Cancer as a Best Consumer Health Title 2011. Each year the American Journal of Nursing evaluates hundreds of consumer health titles and selects the three they believe to the best. Learn why Dr. Stewart Fleishman's Learn to Live Through Cancer was selected as 2011 Best Consumer Health title.
In Learn to Live Through Cancer, Dr. Stewart B. Fleishman distills three decades worth of specialized supportive cancer patient care to provide readers with the steps survivors and families can take to improve their quality of life and rebound from cancer. Dr. Fleishman's LEARN system, emphasizing Living, Education, Activity, Rest and Nutrition, is a way for patients to proactively participate and collaborate with providers in their own healthcare. Using the tools and suggestions in the LEARN System, right from the day of diagnosis and onward, the patient, family and friends will better know what to expect during survivorship, and how to proceed.
CREDENTIALS: Stewart B. Fleishman was the Founding Director of Cancer Supportive Services at the Continuum Cancer Centers of New York and served as the Associate Chief Medical Officer of Continuum Hospice Care-Jacob Perlow Hospice.
###