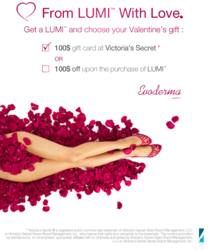 Montreal, Quebec, Canada (PRWEB) February 01, 2012
To celebrate Valentine's Day in style, EvoDerma will be offering a special promotion on their flagship product, the LUMI™ IPL hair removal system. This offer is available to all online shoppers who visit evoDerma.com between January 31st and 11:59pm EST on February 14th 2012, while supplies last. EvoDerma's From LUMI™ With Love* 2012 Valentine's campaign involves a choice between two complementary gifts valued at $100 each, with the purchase of the regular edition LUMI™ in honor of the most sensual day of the year, St. Valentines.
To make Valentine's Day that much more special, all evoDerma customers who purchase a regular edition LUMI™ Intense Pulsed Light (IPL) hair removal system within the above specified dates, will have the choice between either a 100$ Instant Rebate applicable on the purchase of the regular LUMI Hair Removal System or a complimentary e-gift certificate from glamorous brand Victoria Secret for the same value. As one evoDerma spokesperson suggested:" We are certain that the majority of our female customers will agree, Valentines Day is not only the day to celebrate love and affection between love ones, but it is also a great opportunity for women to showcase their confidence and feminine power of seduction to their partners. What better way then to flaunt that beautiful and smooth skin you can achieve with LUMI™ IPL Hair Removal with an outfit from one of the most daring and sexy lingerie brands out there such as Victoria's Secret?"
To redeem this offer, customers will have to enter one of the two following From LUMI™ With Love* promotional codes on evoderma.com, just before the checkout page:

VICTORIA for the complimentary Victoria's Secret®* e-gift certificate ($100 value) valid on http://www.victoriassecret.com/. The e-gift card will be sent to the email address provided by the customer at checkout the next day following the purchase
VALENTINE for the $100 Instant rebate applicable on the purchase of the regular LUMI Hair Removal System. The price of the LUMI Hair Removal System will be adjusted after offer code is applied.
To learn more about this offer, please visit evoDerma promotional page.
EvoDerma's LUMI™ IPL hair removal system provides a long-term solution for unwanted hair growth on both men and women. Scientifically proven, Intense Pulsed Light Technology is a safe and painless way to remove unwanted hair at the root. The IPL technology in evoDerma's hair removal system has been used in clinical settings for over 15 years and has been scientifically proven as a safe and painless alternative to laser hair removal and waxing. The LUMI™ IPL system achieves professional hair removal results from the comfort of home.
The Victoria's Secret® e gift-card is only redeemable online at VictoriasSecret.com. Victoria's Secret® is registered and/or common law trademark of Victoria's Secret Direct Brand Management, LLC, or Victoria's Secret Stores Brand Management, Inc., who reserve their rights and ownership to the trademark. This current promotion by evoDerma Inc. is not endorsed, sponsored, affiliated with or otherwise authorized by Victoria's Secret Direct Brand Management, LLC or Victoria's Secret Stores Brand Management, Inc.
About EvoDerma
EvoDerma Inc. spent years developing cutting-edge skin care and hair removal products. They continue to do so through countless hours of research and testing. All EvoDerma products are safe, cost-effective, and utilize the highest technical advancements in the industry. The LUMI™ IPL hair removal device is a true testament to the company's efficiency, quality, and safety commitments.
###