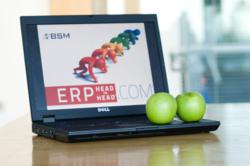 (PRWEB) February 02, 2012
While the economy emerges from recession, firms are facing increased pressure to ensure that they are positioned for growth and able to take full advantage of the changing conditions. It is clear that the advantages provided by Enterprise Resource Planning (ERP) systems can provide a distinct competitive advantage to those firms with the foresight and capability to deploy them. With a various range of ERP systems currently operating within the ERP market it can be difficult to decide which solution is right for your business.
This year's ERP HEADtoHEAD event in Dublin offers a two day showcase of the leading 9 ERP Solution providers; Sage ERP X3, SAP Business All-In-One, Epicor 9, IFS, Infor Lawson, QAD Enterprise Applications, Syspro, Microsoft Dynamics NAV and Microsoft Dynamics AX. This event offers a unique opportunity to view each solution on a like for like basis through a single high level script and two hour software demonstration.
For the first time Sage ERP X3, the 3rd largest global ERP vendor, will be demonstrating its ERP Capabilities alongside Sage Business Partner Pinnacle at the ERP showcase. With features including the need for quick implementation, international ERP solutions that support domestic locations, strong international features, multiple languages and currency support, multiple chart of accounts, all delivered to multiple locations, Sage ERP X3 caters for all emerging trends within the ERP marketplace.
ERP HEADtoHEAD is a unique opportunity offering ideally suited to those who wish to review their ERP Systems and would like to see the tangible benefits which can be gained from the implementation of an ERP Solution such as Sage ERP X3.
ERP HEADtoHEAD is taking place at the Carlton Hotel, Dublin Airport on February 22nd & 23rd 2012.
For more information on the agenda or registering your place simply contact Sage ERP X3 Implementation Partner Pinnacle.
Tel: 01419 8990
Email: sage(at)pinnacle-online(dot)com
# # #