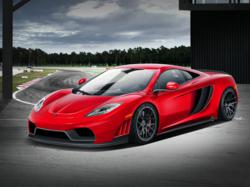 The HPE800 Twin Turbo will include upgrades to the powertrain designed to reliably increase power to over 800 bhp.
Sealy, TX (PRWEB) February 01, 2012
Texas-based automotive tuning company, Hennessey Performance (HPE), has set their sights on taking the new McLaren MP4-12C to a higher level of performance. Today the company is introducing their HPE800 Twin Turbo concept for the 12C. The HPE800 Twin Turbo will include upgrades to the powertrain designed to reliably increase power to over 800 bhp. HPE will also add a more aggressive aero package to the vehicle in order to increase downforce. The Hennessey CarbonAero bodywork will incorporate a new, center-positioned frontal air inlet with hood extractor. This new design will allow room for larger heat exchangers for improved engine intercooling as well as transmission cooling.
"We've been taking fast cars and have been making them faster for over twenty years," said company founder and president John Hennessey. "I spent a lot of time around the new 12C at the 2011 Goodwood Festival of Speed and was very impressed. We're excited to have the opportunity to take a great car and give it our own special performance touch while giving 12C owners a uniquely aggressive appearance".
HPE800 Twin Turbo Upgrades Include:

Upgraded intercooler system
Upgraded air intake system
Upgraded ball-bearing turbochargers
Hennessey titanium exhaust system
External wastegates
External blow-off valves
Upgraded fuel and engine management system
Upgraded transmission cooler
Upgraded transmission clutch system
Custom dyno-tuned engine calibration
Hennessey Warranty
Other Upgrades Include:

Hennessey CarbonAero body upgrade
Hennessey Monoblock wheels
Michelin Pilot Super Sport Tires
Hennessey custom interior upgrades including carbon fiber, Alcantara and leathers
HPE does not plan to offer any kind of a suspension or brake system upgrade as the factory systems will be difficult to improve upon. The company plans to offer the upgrades listed above as an entire package as well as some individual parts. These items will be available directly from HPE facilities located in Texas and Southern California. Pricing has not yet been set.
About Hennessey Performance
Hennessey Performance (HPE) has been making fast cars go faster since 1991. It operates a 30,000 square foot workshop and showroom facility situated on 143 acres near Sealy, Texas (about 45 minutes west of Houston). The company also operates a showroom and installation facility located in Lake Forest, California. HPE offers a wide variety of dyno proven, track tested parts and upgrades for a variety of modern performance vehicles. Hennessey Performance is also the only tuner in North America that operates its own test track – Lonestar Motorsports Park.
###