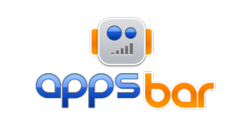 App stores have swelled in popularity with millions of new apps being introduced by everyday app builders who truly define what apps are today, and this is our way to recognize the ideas behind what apps will be tomorrow
New York, NY (PRWEB) February 01, 2012
As everyday app builders continue to define the evolution of apps and drive app store growth, appsbar (http://www.appsbar.com) today invited participation in the Myapps! video-based challenge designed to spur ideas and innovations surrounding everyday app builders.
The Myapps! contest is an opportunity to participate in a public forum on the evolution of apps by creating and uploading a short video to appsbar's YouTube page (http://www.youtube.com/user/APPSBAR). This challenge is designed to inspire thoughts and conversations on the on-going evolution of apps. Videos that receive the most views will receive prizes including cash and mobile devices.
"App stores have swelled in popularity with millions of new apps being introduced by everyday app builders who truly define what apps are today, and this is our way to recognize the ideas behind what apps will be tomorrow," said appsbar founder Scott Hirsch. "Apps are as unique as their creators, so we're expecting to see a lot of personality in these videos."
The Myapps! challenge invites appsbar app builders, both those who have published apps or are still designing apps, to post a video that is shorter than 30 seconds to the appsbar YouTube Channel. Don't worry, if you're not part of the appsbar community yet, you can still sign up and take part in the contest. The videos can incorporate anything the user wants to highlight, whether it is their thoughts on the evolution of apps, the appsbar experience, or how we can make appsbar better. The contest will create a public platform where everyday app builders can showcase their ideas on how apps or app stores can or will be improved, their own unique appsbar apps – or anything about the future or history of app building.
Starting today, anyone can email their video to videos@appsbar.com and it will be posted to appsbar's YouTube channel. Once the video is posted, the poster should visit appsbar's Video Page at YouTube (http://www.youtube.com/user/APPSBAR/videos), capture their video's URL, and share the video across social networks and email to help drive their viewing numbers.
The winner whose video receives the most views by May 1st will be identified on appsbar's Facebook page (http://www.facebook.com/appsbar) around May 15th. The video that receives the most views will receive the grand prize of $2,000. A second place winner will receive a new Motorola Xoom™ Tablet and a third place winner will receive a $100 Visa gift card. All winners will be contacted through appsbar's Facebook page.
For additional contest details visit http://www.facebook.com/appsbar and click on the Video Contest tab or visit http://www.appsbar.com/VideoContest.php.
The contest is sponsored by appsbar, the leading DIY resource for app builders that provides the first, all-free, professional-level, customizable app builder. With no cost to join the community, no cost to design an app and no cost to publish an app, appsbar has become a defining force in the app world.
Starting at http://www.appsbar.com, anyone can build and publish an app that reflects their unique personality or interests. Each appsbar app gives users infinite customization options for building pages including videos, sounds, pictures and more. appsbar users can connect their apps to their social network sites and calendars, and businesses can add catalogs of merchandise, order forms and interactive maps to their location to engage customers.
About appsbar
appsbar was launched in 2011 to fill the gap between over-simplified apps and costly, professionally-produced apps. appsbar was developed by Appsbar Inc., a company founded by Scott Hirsch. appsbar has grown to a community of everyday app developers and opened the way for businesses and people to engage with friends and brands online through the development of customizable digital tools. For company contact information and partnership opportunities, visit http://www.facebook.com/appsbar or http://www.appsbar.com
###