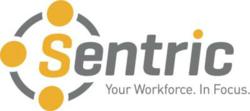 PITTSBURGH, Pennsylvania (PRWEB) February 01, 2012
Sentric, Inc., a Human Capital Management software and services firm, announced a major enhancement to SentricWorkforceTM with the completion of its upgraded Payroll component, targeting middle market organizations seeking a "cloud-based," integrated workforce management suite featuring HR, Payroll and Time & Labor Management tools.
User benefits of the fully-integrated, cloud-based SaaS system include:

Empowering employees to manage their own information, profiles, careers, work/life events, benefits and training via self-service
Enabling managers to monitor their workforce more efficiently and easily from time off to qualifications tracking
Managing workforce communications, training, development and performance from one unified solution
Reporting on key workforce metrics, labor costs, point-in-time analytics and all other workforce activities
Implementing and deployment quickly, without investment of internal IT resources
SentricWorkforce is also component-based, so organizations can subscribe to all or portions of the suite while empowering employees, candidates, and managers through streamlined self-service, and automating key processes through the Routing and Alerts workflow engine.
"SentricWorkforce, now delivered with complete integration across the key components of Payroll, HR, and Time/Labor Management, is the culmination of the design and development efforts which we began several years ago," said Linda McClelland, Product Manager of SentricWorkforce. "This product aligns our development efforts with the evolving needs of both current clients and the entire workforce management market space, while continuing to provide a highly-configurable solution."
"This release secures our unique position for leading the market with in-depth workforce functionality, backed by full-service payroll and tax filing experience," said Tracy Null, VP Business Development, Sentric.
Take a product tour of SentricWorkforce, a fully-integrated HCM platform that includes payroll, time management, benefits administration and a full suite of talent management services at http://info.sentric.net/sentricworkforce-producttour/.
About Sentric Inc.:
When we began operations in Pittsburgh in 1994, our mission was clear:  provide state-of-the-art technology with unmatched client service. Since its inception, Sentric, Inc. has evolved into a national workforce management solutions provider to more than 2,500 organizations, featuring rich technology coupled with our client-centric solutions approach to ensuring service excellence. For more information on Sentric solutions, visit http://www.sentric.net/.
CONTACT: Tracy Null, 412.253.1315
This press release was distributed through PR Web by Human Resources Marketer (HR Marketer: http://www.HRmarketer.com) on behalf of the company listed above.
###