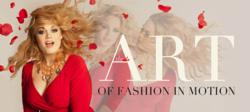 We women have multitudes of ways of expressing ourselves. The play with the idea of different looks for just one woman in the campaign is to remind the world that who we are is not defined by our current physical attributes but by who we choose to express
San Francisco, CA (PRWEB) February 01, 2012
Award-winning American plus-size designer brand IGIGI by Yuliya Raquel, http://www.igigi.com, has launched The Art of Fashion in Motion campaign, a trailblazer montage of color, movement, and art inspired by the great revolutionary abstract expressionists like Mark Rothko, Jackson Pollock, and Lee Krasner. The Art of Fashion in Motion is a strong visual extension of the company's more-than-a-decade long mission to transform the world's view of beauty. The Art of Fashion in Motion is to the plus-size fashion world what the contribution of these revolutionaries has been to the art world; a groundbreaking, exciting and out-of-this-world approach to the way we perceive plus-size women and fashion. In a visual feast that tells the story of wearable art designs, plus-size model Kailee O'Sullivan appears as a woman of multiples facades. She is a canvas of seductively moving curves where fashion and art merge as one to create a truly eye-opening campaign for an industry that is still believed to be stuck in the time of the muumuus. The Art of Fashion in Motion campaign also features IGIGI by Yuliya Raquel's new Valentine's Day Collection of flowy, waist accentuating dresses and separates draped in signature IGIGI by Yuliya Raquel style and embellished with trendy sequins, lace and color blocks available now at http://www.igigi.com. Prices range from $90 to $180.
"I have always been inspired by the abstract expressionistic work and the way these artists made a change and influenced the world. My intent is to create wearable art designs that are timeless yet very modern. They inspire the wearer to express herself with confidence and empower her to communicate her uniqueness, beauty and intelligence regardless of her size. We women have multitudes of ways of expressing ourselves. The play with the idea of different looks for just one woman in the campaign is to remind the world that who we are is not defined by our current physical attributes but by who we choose to express ourselves onto the world as," said Yuliya Raquel, Founder, Designer and Creative Director.
Much like Abstract Expressionism revolutionized the world of art, IGIGI by Yuliya Raquel has been a pioneer in the way fashion is created for the modern fuller-figured woman opening a path and leading the way for many brands that followed. February 2000 marked the arrival of designer label IGIGI by Yuliya Raquel on the fashion scene with a groundbreaking mission and culture that celebrated curvaceous and voluptuous women with sensual, daring and on-trend designs that were unprecedented in the world of plus-size fashion. Most of the selection at the time was designed to hide the curvaceous body behind shapeless garments with conservative silhouettes, poor quality, and ill-fitting styles. A private couturier with a mostly plus-size client base, Yuliya Raquel, decided to break the rules of traditional plus-size fashion and bring her couturier experience to the masses with designs that flatter, accentuate and celebrate full-figured women with a message of self empowerment, acceptance, and love.
About IGIGI by Yuliya Raquel
Headquartered in San Francisco, Ca, IGIGI by Yuliya Raquel was founded in 2000 with a mission to transform the world's view of beauty by providing full-figured women with fashion-forward, quality, and well-fitting clothes that would help express their beauty. Collections are designed in-house and produced locally through independent San Francisco Bay Area contractors. IGIGI by Yuliya Raquel has been featured in major fashion and life style magazines like Marie Claire, The Oprah Magazine, People StyleWatch, Ladies Home Journal, Glamour, and Essence, and it has been a favorite among celebrities such as Nikki Blonsky, Kim Coles, KayCee Stroh, Jill Scott, Kelly Price, and Gabourey Sidibe. IGIGI by Yuliya Raquel collections are available online at http://www.igigi.com and select boutiques worldwide. IGIGI by Yuliya Raquel was honored with the Best Plus Fashion Retailer of the Year award (Full Figured Fashion Week, June, 2010), and made Internet Retailer's Top Hot 100 list (December, 2010), and recently received About.com Critics' Choice Best Plus Designer Award (March, 2011).
###