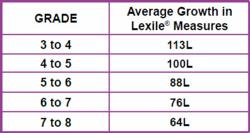 It's very important to provide practice reading that is challenging, but not frustrating.
San Diego, CA (PRWEB) February 06, 2012
Educators have long needed more timely, reliable ways to keep students on track for college and career readiness, especially in building their reading skills. Total Reader™ is an online reading assessment program that is specifically designed to encourage reading progress throughout a student's education. This program, long available to schools and districts, now offers individual subscriptions to students.
Total Reader provides instant scoring after students read short passages, so educators and parents can easily determine which students need intervention. Because Total Reader uses the Lexile Scale®, a research-based measure widely used by standard tests and publishers, educators and parents have an objective way to work with a student set goals.
Total Reader uses a form of computer adaptive testing to provide practice reading that is always targeted to an individual student's current reading level. Independent research has shown typical reading growth for each school year. Educators and parents can then work with students to set goals. Total Reader even provides an automatic way to compare student reading progress with Common Core stretch standards.
Students see their Lexile measure each time they complete a short practice session, and seeing their score increase is a strong motivator. Students who practice reading using Total Reader show double the expected reading gains in grades five through seven, and significant gains from grade three through college.
"Educators, parents and students are always aware of students' Lexile measures, so students can be given supplemental reading at a level that encourages reading growth," explains Peter Sibley, CEO of EDmin. "It's very important to provide practice reading that is challenging, but not frustrating."
Total Reader is available through individual subscriptions as well as to schools and districts. For more information please visit http://www.totalreader.com.
###