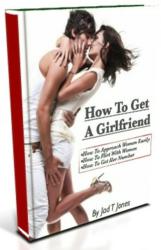 Dating advice so simple it's stupid!
Vancouver, BC (PRWEB) February 02, 2012
Although Canadians usually sneak under the radar, there is one man who is brewing up a storm in the dating community.
Author Jad T Jones is slowly becoming the "go-to guy" for online dating advice. His videos on youtube currently have a total of over 50,000 views and his ebook "How To Get A Girlfriend" has been downloaded over a thousand times already.
According to the testimonials provided on Jones' website his customers are calling him "The new love guru". What seems to set Jones apart from other dating coaches is that he appears to be very down to earth and stays in close contact with his readers and viewers.
In an interview, Jones said this, "Growing up I knew how hard it was to have low self esteem and be too shy to go talk to girls. So when I'm teaching these guys how to improve their skills with women, I can really understand exactly what they're going through on a deep level; this understanding allows me to help these men in a way that very few others can."
According to Jad T Jones, 90% of the dating advice out there on how to talk to girls and how to get girls to like you, is completely false and actually makes men worse with women. He told me that in the past he listened to so called dating gurus, and what happened is their advice actually made him worse with women.
Jones' main vision is to give men the proper useful advice they need in order to get them the results that they want; and save them from wasting their time and money on information that doesn't work. Jones says he gets emails daily from men thanking him for the wonderful information in his book and videos.
It shall be interesting to keep an eye on Jones and see if he is the next evolution in dating advice.
To learn more go to Jad T Jones' website: "How To Get A Girlfriend"
###