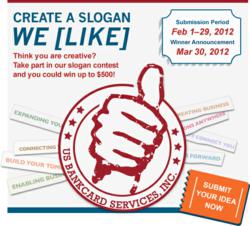 it is possible for one user to win up to $500 in this contest
City of Industry, CA (PRWEB) February 01, 2012
US Bankcard Services, Inc. (USBSI) will hold a slogan contest on Facebook from February 1st to February 29th, 2012. Facebook users will have 29 days to submit their own ideas on the USBSI's Facebook fan page for what USBSI's new slogan should be. USBSI will select up to five slogans; winners will be announced on March 30, 2012.
Winning slogans should be in English, about three to six words long, and should be unique. Participants can not knowingly provide a submission that infringes on existing copyrights. Each winning slogan entry will receive $100 with no limit to the number of slogans a user can submit. Therefore, it is possible for one user to win up to $500 in this contest.
Facebook users are encouraged to be creative with their submissions. Slogans that capture the essence of USBSI: award winning customer service, innovative solutions for merchants, engagement with the community, etc., are welcome. USBSI reserves the right to pick the winners at its sole discretion.
USBSI hopes to involve both merchants and everyday users and fans in its search for a new slogan. With 2012 being a leap year, users have even more time to submit their best ideas. USBSI looks forward to receiving the top slogans from the finest community of fans. USBSI wishes contest participants the best of luck and encourages them to check back at the end of March to congratulate the winners and see the winning slogans.
About US Bankcard Services, Inc.
US Bankcard Services, Inc. is a top rated MSP that offers competitive rates, incredible customer service support, and cutting edge technology in credit card processing service. USBSI offers a wide array of value-added services, including QuickDining.com (QD) restaurant e-commerce, gift card services, check guarantee, PCI –DSS compliance consultancy, 24-7 multilingual customer service and technical support. US Bankcard Services, Inc. is a registered MSP/ ISO of Elavon, Inc. Georgia
For more information about merchant bankcard services please visit us at usbsi.com or call us at: 1-888-525-8558.
###