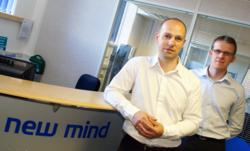 New Mind has demonstrated a flexible, pro-active approach underlining their expertise within their market
(PRWEB UK) 2 February 2012
New Mind's Destination Management System (DMS) will power all of Scotland's official tourism websites following a major 4 year contract win with the national tourism organisation, VisitScotland.
The win is the culmination of a rigorous tender process that has taken place over the last 9 months, which originally included 50 expressions of interest, whittled down to 12 tenders, and eventually shortlisted down to the final 3 contenders.
One of VisitScotland's primary objectives as an organisation is to grow Scottish tourism through the digital environment. Central to this strategy is the requirement for a comprehensive Destination Management System which will act as a central repository for all data relating to Scotland's tourism offer. New Mind's technology has been selected as a 'best in class' platform to deliver these objectives, based on the strength of its functionality and flexibility.
The existing http://www.visitscotland.com web site already receives 12.7 million unique visitors a year and the key aim for the future will be to increase this by improving online communication with both Scottish tourism businesses and consumers alike. The New Mind DMS will be central to that goal.
Martin Ogg, Head of Digital at VisitScotland, says, "VisitScotland is delighted to have New Mind on board to deliver this new system. New Mind was awarded this contract following an intensive and detailed tender process. VisitScotland believes that New Mind has both fully embraced the ambition for the website and also has the technical experience and knowledge to deliver on the ambition. To date, New Mind has demonstrated a flexible, pro-active approach underlining their expertise within their market."
Managing Director of New Mind, Richard Veal comments "We are very pleased to be working with such a high-profile organisation such as VisitScotland. This project will be one of the most significant pieces of work we have undertaken, and is our first project for a National Tourism Organisation, representing the interests of a whole country. We are very much looking forward to getting started on the project and are keen to bring our own unique set of skills and experience to the party."
The project is scheduled to start by the end of the month, with a view to delivering the solution within the first quarter of 2012.
Notes to Editors...
About New Mind
New Mind is an award winning technology provider with expertise ranging from the implementation of sophisticated e-tourism solutions to the development of high performance destination websites.
The company's e-tourism solution is a suite of software applications designed to enable and support every area of a tourism organisation's management promotion and fulfilment, with a central product, business and visitor database at its core. New Mind's integrated offering includes website design and development, destination management systems, content management systems, online marketing and mobile applications.
Over the last 11 years New Mind has worked with some of the top performing destinations in the UK in terms of visitor numbers and income generation. In a typical month their destination web sites attract more than 2 million unique users and transact thousands of online bookings for accommodation, events and attractions.
The company has achieved success overseas with the appointment of resellers in Italy, Spain, Sweden and Finland and the acquisition of a prestigious contract with the Costa del Sol Tourist Board.
About VisitScotland
http://www.visitscotland.org/about_us.aspx - Corporate web site
http://www.visitscotland.com/ - Consumer web site
###