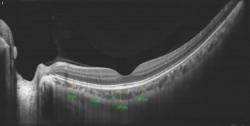 (PRWEB) February 01, 2012
Optovue Inc., has announced the release of a real-time tracking upgrade for the RTVue Fourier-domain OCT system. Demonstrated at the recent Academy of Ophthalmology meeting, the innovative option is as simple as a software upgrade to the company's flagship RTVue FD-OCT (also called SD-OCT) system used world-wide by eye care clinicians to aid in the diagnosis and management of ocular diseases.
Utilizing a novel method of real-time video image processing, the software uses hardware already included with the RTVue system for following patient eye movement during the OCT scanning process. With nearly OCT 5000 systems installed world-wide, this upgrade provides another optional module to the first FDA cleared FD/SD-OCT system launched into the market in 2006.
Optovue had previously released a CAM (Cornea-Anterior Module) option that created the first OCT to offer scanning and analysis of both the posterior and anterior segments of the eye, and TCP (Total Cornea Power) which provided the cornea power in the central 3mm visual zone of post-refractive treated eyes...
About RTVue®, iVue® and iStand™
RTVue was the first FDA cleared Spectral-Domain OCT launched in the United States, and also the first OCT cleared by the U.S. Food and Drug Administration for both corneal and retinal imaging. The iVue is the compact version of the RTVue OCT, offering the same scanning speed and resolution as the larger system, that includes scanning and reports for retina, retina nerve fiber and cornea assessment by the clinician. iStand is a rolling floor stand option for iVue. When mounted to iStand, patients are able to be scanned in various positions including the supine position.
About Optovue® (http://www.optovue.com)
Optovue Inc. is a privately-held ophthalmic device company dedicated to working with eye care professionals and clinical researchers to lead the commercialization of new imaging modalities that improve diagnosis and therapy of ocular disease. Optovue has achieved widespread market success through a combination of unique data analysis design, a reputation for excellent customer service, and rapid innovation of its technology in response to physician feedback. The company is headquartered in Fremont, CA, with operations in Carlsbad, CA and European operations in Heidelberg, Germany.
###