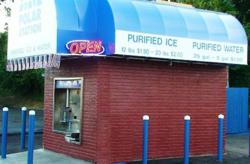 According to estimates, the water bottling industry pulled in revenues of over $8.8 billion in 2010...
O'Fallon, MO (PRWEB) February 02, 2012
Polar Ice & Water has just launched a new website explaining the benefits and logistics of setting up an affiliated water and ice vending business.
"This is a new market delivery system that is a strong alternative, if not a replacement, to how we used to buy ice," says the company website. "Ice is a major market and a product that is consumed every day. One does not have to look far to see the many ice storage bins that are positioned outside convenience and grocery stores, gas stations, marinas, and other retail locations throughout the country."
The Polar Station is a 9 x 13 x 13 reinforced building that houses vending capabilities for purified water and ice. The structure of the building may be customized to complement surrounding structures or to comply with city ordinances. At the front of the station, customers may purchase both purified water and purified ice. The company also offers a flavored sports drink, called JiMax, that users of the Polar Ice system can sell alongside water and ice.
The amount of ice dispensed from the machine is more than double what is typically sold in a bag at the supermarket. The purified ice also has a lower price point that typical bagged ice. The water and ice within the Polar Station is purified using a multi-step process that includes micron filtration, dechlorination, water softening, reverse osmosis and ultraviolet light.
According to estimates, the water bottling industry pulled in revenues of over $8.8 billion in 2010. The Polar Station offers a less expensive product than bottled water because it utilizes the local water supply, which eliminates transportation costs. Onsite filtration also delivers lower costs for business owners, which can then be passed on to customers. The business model is geared toward today's eco-friendly culture as well as toward the cost-conscious entrepreneur.
Business owners wishing to receive a free information pack, or have questions, can visit the website, send an email or call the number below.
Terrance Hamilton
311 South Cool Springs Road
O'Fallon, MO 63366
Phone: 636-614-2832
http://www.polariceandwater.com
###