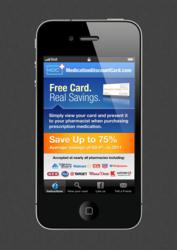 The new iPhone app gives customers up to 75% savings on brand name and generic prescriptions.
Houston, TX (PRWEB) February 02, 2012
Prescription savings leader MedicationDiscountCard.com today announced the release of a new free companion app for its signature Prescription Savings Card. The new iPhone app gives customers up to 75% savings on brand name and generic prescriptions. Available at http://medicationdiscountcard.com/itunes, the app allows users to pull up their Medication Discount Card onscreen, show the phone to their pharmacist and instantly begin receiving discounts and rebates for all FDA approved prescriptions they purchase.
Sign up is completed simply by downloading the app, or printing the card online at MedicationDiscountCard.com. The card is absolutely free and never expires. Everyone qualifies. There are no applications to fill out, no fees, and no medical exams. Customers can instantly print their new card on their own computer or download the free iPhone app to their phone.
Customers need only show the card or the iPhone screen once at a participating pharmacy to automatically earn discounts and accumulate rebates. Unlike many discount card programs that keep manufacturer brand name rebates as a separate profit line, the Prescription Savings Card from MedicationDiscountCard.com loads the customer's rebates onto a MasterCard debit card issued by the company. The debit card rebates can then be spent anywhere MasterCard is accepted.
The Prescription Savings Card can be used instantly at any of 63,000 neighborhood drug stores as well as at all major pharmacy chains including Wal-Mart, Walgreens, Target and Rite-Aid. The card earns savings and rebates that are currently over 13% higher than any competing medication discount card we have found. Rebates of between five and twenty dollars per hundred-dollar prescription are not unusual. The savings the card offers on prescription drugs may sometimes even exceed those offered by insurance.
The website at http://MedicationDiscountCard.com offers a convenient savings calculator and a pharmacy finder to aid in locating participating pharmacies. The new online app makes it easy to tell a friend through email or text, and even connects to a fan page on Facebook.
About the Company:
To obtain the MDC Prescription Discount card, interested consumers can visit http://medicationdiscountcard.com, or http://medicationdiscountcard.com/itunes and print a card or download their iPhone app in seconds right at their desk. Alternatively they may contact MDC and receive a physical card mailed to them at no charge. The website offers a Member Pharmacy Locator and Prescription Savings Calculator to estimate potential savings.
###