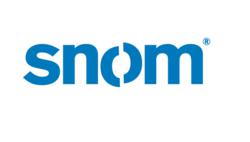 Woburn, Mass. and Miami, Fla. (PRWEB) February 01, 2012
snom technology AG, a leading developer of IP desktop phones and IP communications solutions, today released a new version of its award-winning snom ONE IP PBX, adding advanced mobility capabilities that extend standard IP PBX calling features to employee mobile devices. The new release, introduced at ITEXPO East (Booth #512) in Miami, January 31 – February 3, also features new management and security features to more easily provision and integrate a businesses cell phone cell fleet with the snom ONE IP PBX.
"Worker mobility is a growing issue for many of companies, and the need to have cell phones seamlessly integrated into the organization's internal telephony platform is directly related to the productivity of a mobile workforce," said snom COO Mike Storella. "The snom ONE IP PBX has become a cornerstone of communications for many organizations, and as those organizations move into the world of integrated enterprise mobility, the snom ONE is prepared to help them easily and securely increase employee productivity and keep the costs of a mobile workforce down."
snom ONE IP PBX release highlights include:

"Cell phone as an extension": The snom ONE allows cell phones to act as truly integrated extensions, incorporating call transfers, conferencing, internal extension dialling and other features.
Broad SIP client support: The snom ONE now supports mobile SIP clients, running on popular platforms such as Android and the iPhone.
Enhanced management features: The web-based interface has been enhanced to make administering the system even easier and more productive.
Enhanced remote phone security: snom ONE provides WAN-based authentication for plug and play with snom 7xx and snom 8xx series phones, alleviating the need for users to enter password information and increasing simplicity and security for remote workers.
Plug and play deployment: The snom ONE is optimized for all snom phones, enabling plug-and-play deployment and provisioning for the snom 3xx, snom 8xx and newly released snom 7xx series desktop phones, as well as other endpoints, including the snom M9 DECT phone, the snom PA1 public address system and the snom MeetingPoint conference phone.
Virtual appliance: snom ONE is available as virtual appliances for VMware and Microsoft Hyper-V via a .vhd file. This addresses the demand for hardware failover without dropping calls.
Enhanced Software Update Mechanism: The system can be updated easily via the web interface, alleviating the need to connect to the operating system to perform upgrades.
The snom ONE IP PBX is a SIP-based, full featured IP PBX optimized to work with snom phones, offering advanced features including agent groups, conference rooms, call recording, and many other features typical in a mature SIP based communications system.
The snom ONE is compatible with Windows, Linux and Mac environments and is equipped with robust web security through HTTPS and call security through TLS and SRTP. snom ONE supports mixed IPv4/IPv6 LAN and WAN environments and comes with an automatic blacklisting feature that makes it possible to expose public IP addresses. The snom ONE is also available as a turnkey system in snom ONE Plus appliances.
The snom ONE IP PBX is available in three versions: snom ONE free (downloadable), for up to 10 extensions, snom ONE yellow (for up to 20 extensions) and snom ONE blue (unlimited number of extensions and multi-tenant capabilities up to five companies). All versions offer the full feature set, including hunt and ACD groups, mailbox, auto attendant, conference rooms and paging, and are designed to take full advantage of the hardware features of snom's suite of desktop phones and endpoints. snom ONE blue also allows up to five separate corporate tenants, supporting multiple organizations to operate using a single IP PBX.
For more information about snom in the Americas, please visit us at http://www.snomchannel.com; follow us on Twitter at http://www.twitter.com/snom; become a fan on Facebook at http://www.facebook.com/snom.VoIP.phones; or join our LinkedIn group at http://www.linkedin.com/groups?gid=1773766.
About snom
snom technology AG develops and manufactures VoIP telephones and related equipment based on the IETF open standard, SIP (Session Initiation Protocol). Recognized for its high-quality, customizable and cost-effective business solutions, snom is also differentiated by the company's history in the VoIP industry and its dedication to high security standards. All of snom's products, from desktop phones to IP PBXs, are designed to be fully interoperable with leading communications equipment vendors. snom customers benefit from the interoperability and flexibility that the snom telephones offer, including plug-and-play integration and universal compatibility with any SIP-based telephony platform. In September 2011, the snom 300 and the snom 821 were the first SIP phones which were officially tested and qualified as interoperable with Microsoft Lync™ by Microsoft.
Founded in 1996 and headquartered in Berlin, Germany, snom technology AG also has offices in Italy, France, the United Kingdom and the US. For more information on snom, please visit http://www.snom.com.
###