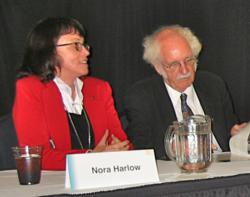 "Child sexual abuse is such a bad thing that we want abusers to look like bad people, but they don't. They could be our brothers, sisters, coaches, teachers and people we see at cook-outs", explains Nora Harlow.
Jacksonville, Florida (PRWEB) February 06, 2012
On the same day that media focused attention on a man in a Clay County, Florida courthouse pleading guilty to the abduction, sexual abuse and murder of a 7-year old Florida girl, in another area of Jacksonville, professionals, advocates and child sexual abuse survivors joined together for the "Protect the Children Conference", dedicated to stopping the insidious crime of sexual abuse against children.
Nora Harlow, founder of the Child Molestation Research and Prevention Institute in Atlanta asked attendees of the Protect The Children Conference, "If there are 43 million victims of child sexual abuse out there, how many abusers are out there? You are not going to like it," she explained. "The truth is that we just don't know. We do know that only 2 million of these abusers are in the Criminal Justice System. Yet our research points to millions more out there abusing children." Who are they?
"Child sexual abuse is a bad thing. We want the people who do it to look like bad people, but they don't," explained Nora Harlow. "These people show up as coaches, teachers, after school volunteers, friends, family and mentors. Not at all who you would expect them to be. Not until we put our anger aside and put the children first are we going to be able to stop this abuse."
Who do the children tell? According to the Child Molestation Research & Prevention Institute
60% will tell no one. 40% will tell an adult - but only 6% of those adults told of the sexual abuse will report it to the police. The vast majority of victims go untreated and the abusers move on to groom their next prey. Harlow asked the attendees, "If all of those same children walked into a classroom on crutches, would we ignore them? Would we as adults be so traumatized that we fail to help? Yet, in the case of child sexual abuse, that is exactly what we do, nothing."
Why don't more children tell? Studies done by the Child Molestation Research and Prevention Institute reveals that the majority of the children don't tell because they don't want to upset their mother. Others suffer from shame, humiliation and guilt because their abusers groom them to feel that they somehow bear responsibility for their own victimization.
The cost of child sexual abuse extends beyond the emotional destruction of its victims and is linked to immune system failure, increased illnesses, frequent hospitalization and death. According to speaker Dr. Robin Jenkins of the North Carolina Department of Public Safety's Juvenile Justice System the financial impact is also great. He shared a report, (Fang, Brown, Florence, Mercy: Child Abuse and Neglect: 2012), stating it to be $1,272,000 in lifetime victim costs, and $585 billion combined fatal and nonfatal child maltreatment costs in 2008 dollars.
Even with the media attention given to Penn State, Syracuse and others, people still don't want to talk about it. People want to believe that it happens to other people and in other cities. Harlow provided startling facts to drive home her point. "In an average 8th grade class of 32 students, four girls have been sexually abused, two boys have been sexually abused and one boy will have sexually abused a younger child."
Who is the Child Sexual Abuser? According to Nora Harlow's extensive research: 70% are male, 90% are heterosexual, 93% are religious, 77% are married or formerly married, 69% are Caucasian and 46% are college educated. Any of these characteristics sound familiar? They should, they mirror what the United States Census bureau characterizes as reflective of the nation's demographic. The child sexual abuser's attraction to youth runs on a separate track from their adult sexual behavior.
How can we prevent it? By using every tool available to us so that these people don't gain access to our children in places where they should expect to feel safe. Criminal background checks alone won't help identify perpetrators. After years of research and study, Nora Harlow and Dr. Gene Abel, (Director of Research at Abel Screening and considered by many to be the leading psycho-physiology research in child sexual abuse in the United States), developed an assessment tool that effectively identifies a person's inability to comprehend what proper boundaries should exist between adults and children. Called the Diana Screen®, it is a scientifically-validated screening test that identifies people who should not be placed in positions of trust with children or teenagers.
The Protect the Children Conference was sponsored by Donald J. Dymer, president and chief operating officer of SingleSource Services Corporation. The company based in Jacksonville Beach, Florida, has specialized in background screening for sixteen years and serves more than 2,500 companies, organizations and not-for-profits across the nation.
For more information on what you can do to stop child sexual abuse, contact SingleSource Services Corporation at 1.800.713.3412 or visit http://www.singlesourceservices.com/protectthechildren.
# # #