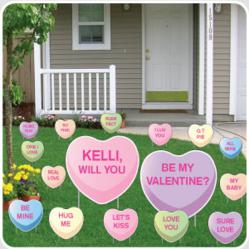 The biggest way to make a Valentine impression this year is with our candy heart yard cards.
Davenport, Iowa (PRWEB) February 02, 2012
The world's largest Valentine Card company, BigFunnyCards.com announced the introduction of Valentine yard cards for the 2012 season of love.
"People love our 4' tall valentine cards and they love to upload their own photos to those cards, but this year we're going to the next step: giant Valentine yard cards," said Steve Grubbs, owner of BigFunnyCards.com. "Lovers who want to make a big impact on Valentines Day, need look no further than our yard cards.
The Valentine yard cards come with sixteen separate pieces and are printed in full digital color in the shape of small candy hearts with different words on each one, just like real candy hearts. But the largest heart, in the center of the collection, is personalized with the name of a loved one. Each small yard card sign comes with one or two wire stakes so they can be arranged in a creative and impactful way.
Yard cards sell for $69 with free shipping and can be personalized online. Those who choose to explore this product need to hurry since Valentine's Day is two weeks away.
For more information, visit http://www.BigFunnyCards.com or call toll free 866-241-2295.
###