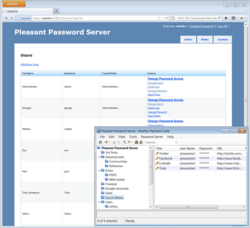 Finally there's an easy and affordable way for businesses to control access to confidential information.
Edmonton, Alberta (PRWEB) February 07, 2012
Today Pleasant Solutions announced the release of its new password management software for KeePass and MS Windows® called Pleasant Password Server™.
It is inevitable. Businesses eventually reach that point where controlling access to sensitive information becomes an issue. No longer can the CEO single-handedly take care of all confidential matters, but must rely on trusted employees to assist.
The use of passwords is a common way to manage access to sensitive information stored on computers, but without the right tools, it can get out of hand. Using spreadsheets and paper for recording and storing pass codes is time consuming and eventually becomes unmanageable.
The next option is to use a password manager like KeePass to streamline the process. KeePass is one of the more popular personal password managers because of its open source technology and the many plug-ins available that enhance its feature set. But individual password managers like KeePass also become unworkable. When password storage is decentralized on individual computers, it is difficult to track and backup multiple password databases.
Enter Pleasant Password Server: the easy way to control access to passwords and other "secrets" (credit card info, software unlock keys, etc.) stored in a central database. The Pleasant Password Server essentially extends the functionality of KeePass for businesses and provides the central control and work-flow efficiency they need.
"We built Password Server to satisfy the needs of small business, namely ourselves!" says Thomas Stachura, CEO for Pleasant Solutions. "We were using KeePass – which is a great solution for individual users, but we needed something that would let us restrict access to sensitive data, and KeePass just couldn't do that. KeePass has multi-user functionality, but all of those users have access to all of the data… so you can see the limitation it has for a business environment."
"There are some great enterprise password management systems on the market," Stachura adds, "but they are very complicated and expensive, and as a small business, we just didn't need all that… nor did we have the time."
The Pleasant Password Server is designed with the needs of small- to medium-sized businesses in mind. It is streamlined, easy to use and quick to install. As a password manager, it provides the essential tools required for security, but is not bogged down by complex functions that only very large corporations would need. As a productivity tool, it is one of the most cost-effective password management systems available today.
The Pleasant Password Server and Pleasant KeePass Client work as a unit. The designated Administrator uses the KeePass Client to set up or import hierarchical groups of passwords (organized in folders), which are then automatically stored in encrypted form on the Password Server through a secure SSL connection.
The password Administrator then uses the Password Server Web Interface to set up roles for people, and grant access to passwords and other secrets as appropriate.
Individual users of the Pleasant KeePass Client can create their own set of personal passwords, but these are never stored on the personal computer: they are automatically stored on the Pleasant Password Server. Furthermore, although users can see their complete list of passwords after logging into the KeePass Client, the password itself is not downloaded until a specific request to access a location in made. Then it is stored in temporary memory; nothing is stored on disc.
Many companies prefer client-server solutions such as Pleasant Password Sever over web- or cloud-based password manager services because there is more internal control over what happens to sensitive data. The company knows exactly how and what it is doing to make the server secure against attacks. Furthermore, a high-profile, cloud-based password server is more likely to be attacked than the private server of a small business. And, of course, if the cloud-based password manager service disappears, so does your data.
Pleasant Password Server is compatible with Windows XP, Vista, Windows 7 or Windows Server 2003+. One-time, per user prices range from $25 to $9.95, depending on the package of seats purchased. All purchases are backed by free technical support and a 30-Day Money-Back Guarantee.
About Pleasant Solutions
Pleasant Solutions is a software company located in Edmonton, Alberta, Canada. Founded in 2007, the company quickly built a reputation for its expertise in developing custom business software that automates repetitive work, uses databases, or integrates with other software. With this focus on crafting efficient business software, Pleasant Solutions went on to create several proprietary software tools and apps, including Pleasant Password Server, Berry Extract, Pleasant Tickets and Keyword Builder, to name a few.
###