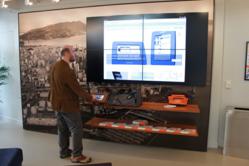 Audiovisual iPad kiosks are mounted on tables below multi-screen displays everywhere you look.
San Francisco, CA (PRWEB) February 03, 2012
With the recent opening of a new ING DIRECT Café on the corner of downtown San Francisco's Post and Kearny, the locals can now experience a new way to relax while surrounded by the luxuries of the latest technology, including iPad Kiosks provided by iPad Enclosures. Prepped with free Wi-Fi, and dozens of yet-to-be-seen amenities, this innovative café is designed to offer visitors a creative place to meet for coffee, make presentations, foster community and discuss all things money.
Watch: Video of ING DIRECT Café's iPad kiosks
Striving for a different take on the banking experience, it seems the only thing this café doesn't offer is traditional banking. Instead of a tellers' window, there's a bar that offers the Bay Area's own Peet's Coffee & Tea, pastries, cold sandwiches and salads. Rather than just helping to deposit checks, every staff member is trained to make lattes, answer questions about checking accounts and mortgages, and work the call center on the top floor. And unlike most one story banking locations, this modern café provides 17,000 square feet across three floors for community meetings and events, with such unique features as a built-in PA system for karaoke and iPad kiosks that control audiovisual (A/V) equipment throughout the retail space.
Each A/V iPad kiosk is mounted on tables below a multi-screen display at every turn inside the café. The iPad kiosks were designed and manufactured by iPad Enclosures, a Sandy Utah iPad kiosk solution company. These particular ING DIRECT iPad kiosks feature a stained wood finish reinforced by a steel enclosure secured with a key lock. The installation of the iPad controlled A/V stations involved creatively connecting each display to an iPad via Apple's HDMI iPad connector, controlled by an A/V application. The end result is an interactive touch screen experience allowing customers to switch between watching TV and surfing the Web. In the far corner of the main floor, customers can find a four-screen wall display, which combines into one large screen; providing an ideal place for local presentations and events.
By adopting all the latest trends and technology, the ING DIRECT Café fits in well with the high standards that have come to be expected from a business surrounded by Silicon Valley.
For more information on the A/V iPad kiosks used in the ING DIRECT Café, please contact iPad Enclosures directly or visit their website at http://www.iPadEnclosures.com. iPad Enclosures is an ArmorActive company.
# # #