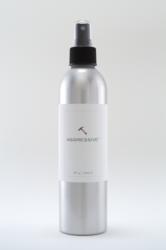 Sniffing a calming aromatherapy room spray is so much more acceptable than letting the air out of my colleague's tires.
Winchester, VA (PRWEB) February 01, 2012
In response to customer feedback, HR Products announces new label design for the company's series of anti- bad mood sprays.
Aggressive™ anti-bad-mood spray was featured on Refinery29.com's December 2011 list of "Hot New Products."
"The response that followed that piece on Refinery29.com was amazing, especially since I had launched the products just a month before." says Heidi Rettig, owner of the boutique aromatherapy company. Sales have been brisk since the feature.
"I knew the anti-bad-mood sprays were special, but it was really great to connect with customers and hear why they were purchasing their bottle of Apathy™ or The Antidote for Ego™.
Customer feedback has shaped a redesign of the products' labels. Rettig says, "Customers wanted to be able to re-read the hilarious descriptions from our website. The next generation of labels preserves the simple, clean design but also includes the funny bits."
Wholesalers wanted more information about what each spray smells like, so an electronic look book (coming soon) will feature graphics that illustrate the scent experience for wholesale clients.
"I've added some information on each product page that gives you an idea of what to expect. When I describe Passive™, for example, I ask people to imagine sticking their head into a giant bag of marshmallows. Apathy™ smells like fresh-peeled grapefruit."
Even though the names are kind of funny, the aromatherapy oils are custom blended to produce a positive emotional response. The smell is subtle enough for use in the office, restroom, car, or at home. The natural citrus freshens the air without phthalates or other dangerous ingredients. The products are 100 percent Vegan, minimally packaged, and the essential oils are organically sourced, whenever possible.
How does Rettig use Aggressive™ aromatherapy mood spray?
"Well, this morning when I arrived at my office, one of the building's tenants had parked in the driveway entrance to the parking lot. No one could get in or out of the office garage for 45 minutes. So, sniffing an all-natural herbal room spray specially blended to calm me down? It's so much more acceptable than letting the air out of some guy's tires, am I right?"
###