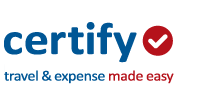 Certify Spend Smart allows employees to easily share information on their vendor experience
Portland, ME (PRWEB) February 01, 2012
Certify, a leading online travel and expense management company, recently released its new Spend Smart service allowing users to provide vendor ratings and reviews. With over 23,000 reviews and increasing by 3,000 per month, Certify clients can preview hotels, restaurants, airline and other travel and expense vendors while making valuable travel spend decisions. Certify Spend Smart allows employees to easily share information on their vendor experience, while allowing company procurement personnel to track their employees' satisfaction ratings of specific travel vendors.
"Spend Smart is a great way for our clients to share information on travel vendors across their entire company," said Robert Neveu, president of Certify. "In addition, our users benefit from vendor reviews provided by all Certify clients sharing travel experience data with the entire user base. Using Spend Smart, our clients can compare travel spend data against their designated travel programs allowing a client to see if their employees are having a pleasurable experience working with these vendors."
The Spend Smart rating and review system is an automated feature of Certify, making it quick and easy for users to rate their current purchases. When a Certify user submits an expense report for approval, they are given the option to rate their recent experience with the businesses associated on their expense report. Spend Smart includes a star rating system and allows entry of a detailed review of the service. Users have the ability to establish a personal profile or use the anonymous profile automatically generated by Certify. Once a review is submitted, users can view the businesses name, location of purchase, and the rating and review details while searching and sorting this data by user, by company, or publicly across the Certify network.
Certify users, as well as the general public, have real-time access to anonymous views of all Spend Smart ratings and reviews. To access Certify Spend Smart ratings and reviews visit:
http://www.certify.com/RateReview.aspx.
About Certify
Certify, LLC, is an online travel and expense management company that provides expense report and travel booking services to corporations across North America. The company provides a true SaaS on-demand travel and expense management solution which includes capturing receipts via mobile applications, online travel booking services, expense policy review and enforcement, approval workflow notification, extensive reporting suite and corporate enterprise integration services. Headquarters are located in Portland, Maine. For more information about Certify please call 207.773.6100 or visit http://www.Certify.com.
For more information about Certify please visit http://www.certify.com or contact 207.773.6100.
###