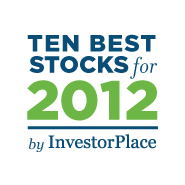 Rockville, MD (PRWEB) February 02, 2012
MAKO Surgical has landed in the number-one spot on the InvestorPlace.com 10 Best Stocks for 2012 buy list, which includes buy-and-hold recommendations from a group of money managers, market experts and financial journalists.
Recommended by Motley Fool co-founder David Gardner, shares of MAKO Surgical, a medical device company, are up 42% year-to-date as of the market close Jan. 31.
The 10 Best Stocks for 2012 buy list is free and open to the public, and the contributors will follow their recommendations throughout the year with regular updates.
Year-to-date returns for the other nine stocks, as of market close Jan. 31, are:
#2: Caterpillar; up 20%. Recommended by Dan Burrows, CBS MoneyWatch columnist
#3: Alcoa; up 17%. Recommended by Jeff Reeves, InvestorPlace.com editor
#4: Microsoft; up 14%. Recommended by James Altucher, founder of Stockpickr
#5: Turkcell; up 10%. Recommended by Charles Sizemore, money manager and editor of The Sizemore Investment Letter
#6: FedEx; up 10%. Recommended by Paul La Monica, CNNMoney editor and author of The Buzz market column
#7: Capital One; up 8%. Recommended by Philip van Doorn, banking and finance analyst for TheStreet
#8: Banco Santander; up 5%. Recommended by Jim Jubak, money manager and author of the stock-picking blog Jubak Picks
#9: Arcos Dorados; up 5%. Recommended by Josh Brown, author of The Reformed Broker blog
#10: Hershey; down 1%. Recommended by Jon Markman, award-winning financial journalist, newsletter writer and trader
For up-to-the-minute results and to follow the competition, visit: http://www.investorplace.com/best-stocks-for-2012/.
About InvestorPlace.com
InvestorPlace.com is a leading financial news and investing website, providing millions of individual investors with access to free stock picks, mutual fund research, market news and sharp, actionable commentary. InvestorPlace Media is privately owned by Avista Capital Partners, with offices in Rockville, Md., just outside Washington, D.C.
###