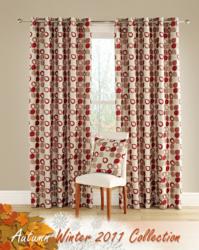 The soft furnishing brand are famous for their attention to detail and high standard of quality
(PRWEB) February 02, 2012
The Artisan Range which was originally launched in the Autumn of 2011 has proven to be extremely popular with customers. So much so that due to high demand Montgomery Tomlinson have added even more designs to the stunning range which is a stylish a fusion of east and west.
The Artisan Collection is already full of distinctive patterns and traditional kilims are complemented by bold blocks of colour in geometric and alphabetic designs. The entire collection is based around warm earthy tones of terracotta and ochre both of which are complemented by mulberry, plum and damson shades. These colours are also juxtaposed with sophisticated flashes of charcoal, stone and pumice which add to the distinctiveness and originality of the designs. With more colours and bold geometric patterns being added it is sure to please homeowners of all ages who already love the range for its classic and cutting edge appeal.
Montgomery Tomlinson are already well known on the high street for their top quality and design led fabrics and curtains and in total they have over 160 retail concessions, all of which stock the much loved Artisan Collection. The concessions feature in some of the most well known department stores on the high street including House of Fraser, Beales and Debenhams as well as in over 1000 smaller outfits throughout the United Kingdom.
The soft furnishing brand are famous for their attention to detail and high standard of quality especially in their bespoke Made to Measure ranges. By taking measurements and fabric choices, and turning them into gorgeous curtains and blinds, the company specialise in transforming rooms, which is why they are so loved by homeowners across the country.
Set up over 50 years ago by Managing Director Grahame Tomlinson the brand has gone from strength to strength and has become a byword for luxury and quality in the home furnishings market. Now employing a skilled workforce of over 200 employees in Chester, North West England the brand have been able to extend their range to offer not only bespoke designs but Ready Made Curtains and Blinds as well.
The Ready Made range is also the perfect solution for dressing windows quickly while still having the option to choose from a stylish range as unique and beautiful in design as the Made to Measure range that Montgomery offer. The company take great pride in the huge range of fabrics that they produce and have something to suit every single style whether homeowners want bright and bold designs such as the Artisan Collection or prefer standout stripes or pretty florals. All of the fabrics are available in sleek and stylish modern designs or traditional fabrics to fit in perfectly in timeless homes.
As the popularity of the Artisan Collection continues to grow and new fabrics are added both homeowners and stores are looking forward to what collection Montgomery Tomlinson will release next as Winter turns into Spring this new year.
###