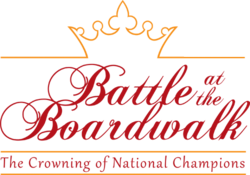 Elkridge, MD (PRWEB) February 01, 2012
Spirit Unlimited and The EPIC Brands would like to introduce the Battle at the Boardwalk National Championships Facebook contest, going on now through Friday, February 3rd, 2012 at 4 pm. This is a VIP Room Contest, and the concept has been a huge success at many other events this season. Battle at the Boardwalk is the largest event this contest has been offered for so far during the 2011-2012 season, and the EPIC Brands will continue to offer this contest to participants of other EPIC Brands events in 2012.
Each team registered for the event has a photo posted in the "Battle at the Boardwalk VIP Contest Room" photo album on the EPIC Brands Facebook page, and all fans have the opportunity to log on and "like" their favorite team's photo. The team with the most "likes" on its photo by 4 pm on Friday, February 3rd will win a VIP room during the Battle at the Boardwalk National Championship on February 11, 2012 in Atlantic City, NJ.
The VIP Room will be available for the duration of the competition to the winning cheer or dance program. The program may use this room as a meeting space, to change, to eat, to practice, to relax, or anything else the find it useful for. For more information on how to vote for a team, please visit the EPIC Brands Facebook Fan page.
###